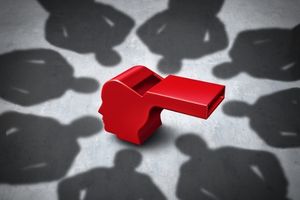 Once you've decided to make a report to the Securities and Exchange Commission (SEC), what's probably the next decision you'll need to make if you should reveal your identity or give the SEC an anonymous tip. Before you decide, there are some important things you need to know.
First, if you decide to be an anonymous tipster and want to be eligible for a whistleblower award, then, under SEC Rule 21F-9, you must have an attorney represents you during the submission of your information. Your attorney will be known to the SEC, and your attorney is responsible for making sure that you have complied with all relevant SEC requirements for your submission. The attorney will have reviewed your materials, your identity, and have you attest to the veracity of your allegations. Your attorney will then be the SEC's point of contact if it has requests for further information and so forth.
Also, while you can be anonymous when you submit the information that leads to an award, the SEC requires that you must reveal your identity prior to receiving an award. So, at some point, you would need to identify yourself to the SEC. However, the SEC will still not identify you publicly, even after they've paid you an award.
Whether you reveal your identity or not, the law requires the SEC to do its best to protect your confidentiality. For example, if the SEC needs to reveal your identity to other government agencies during its investigation and legal proceedings, it will require those other entities to keep your identity confidential. The SEC will not reveal your identity through any Freedom of Information Act (FOIA) requests, and it will redact your name in court filings.
You need to recognize that, during the course of a proceeding, your identity could become discernible, given the nature of the documents or information that you gave the investigators. While the SEC will do its best to limit that possibility, in some ways, only you may know your true vulnerability at that point.
But whether you identify yourself to the SEC or not—don't ever think you have to do this all on your own.
The securities attorneys at the Silver Law Group and the Law Firm of David R. Chase are authorities on whistleblower defense. With many years of experience, we know how to help you through every step of the process, from filing a successful report to obtaining an award. For a free, confidential consultation, contact us through our website or call us today at (800)975-4345.