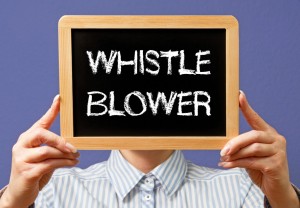 The U.S. Congress has established whistleblower programs with monetary awards to incentivize individuals to report possible violations of the federal securities laws to the Securities & Exchange Commission and the Commodities Futures Trading Commission. The information reported to these agencies can be past, ongoing, or future fraudulent activities. They include:
Ponzi or Pyramid schemes or High-Yield Investment Programs
Theft or misappropriation of funds or securities
Manipulation of a security's price or volume
Front running, in which a trader is aware of pending customer orders for a security and buys or sells unfairly.
Accounting fraud, in which accountants fail to identify false information made by clients regarding their financial status
Pump-and-dump schemes and stock manipulation, including false statements regarding a public company's financial reports and lying to corporate auditors
Mutual fund fraud, which entails deceptive acts that disadvantage investors
Bribery to obtain or retain business, including with foreign officials
Insider trading
Fraudulent or unregistered securities offerings
Abusive naked short selling
Fraudulent conduct associated with municipal securities transactions or public pension plans
Initial Coin Offerings and Cryptocurrencies
To qualify as a whistleblower of any of these violations, the information supplied to the SEC or CFTC must be voluntary, i.e., not given under compulsion, like in response to a subpoena or court order, and original, i.e., not derived from public records or already known to the federal agency, but which the individual procured from independent knowledge or analysis.
To earn a reward, the supplied information must lead to a successful enforcement action that produces monetary sanctions above $1 million.
State awards for whistleblowers who report securities violations are rare because most states have not adopted legislation similar to the federal government.
Working With Experienced Whistleblower Attorneys
Silver Law and the Law Firm of David R. Chase jointly have experienced whistleblower lawyers, including a former SEC Enforcement attorney on the team, so you will have guidance through the process.
Our whistleblower attorneys can help you if you have information regarding securities or investment fraud, violations of federal securities laws, false filings, market manipulation, or other misconduct. You must provide original, timely, and credible, information or analysis in order to be eligible.
Contact us through our online form or at (800) 975-4345 for a consultation. Our attorneys work on a contingency fee basis. This means that it costs you nothing to hire us, and we collect our fees when you receive an SEC bounty. Because we get paid when you do, we have the incentive to help you collect the maximum award available.