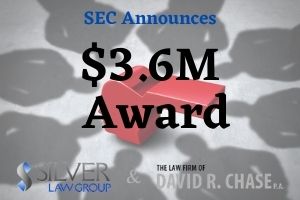 The Securities & Exchange Commission (SEC) announced today the award of $3.6 million to a whistleblower whose assistance helped the agency with another case.
The individual offered "valuable information" to the agency's attention, leading to a new investigation of wrongdoing and violations of federal securities laws. The whistleblower's sustained assistance to SEC staff allowed the agency to continue its investigation, leading to a successful enforcement action.
The identity of the whistleblower is confidential, as well as defining facts about the investigation and subsequent enforcement action. However, the SEC releases some information to let the public know about the battle against fraud and other investment-related crimes, as well as to encourage others to come forward if they witness wrongdoing.
The SEC has handed more than $800 million in awards to individuals who have submitted tips and other information that resulted in an enforcement action. Awards are based on the amount of financial sanctions (money) recovered from the companies engaged in wrongdoing. An award is usually made if there are more than $1M in fines and fees, and are from 10% to 30% of the sanctions. Investor funds are returned whenever possible, and are never part of these awards.
Not All Tipsters Receive Awards
Individuals who are in the position to "see something and say something" frequently have critical information that may otherwise be unavailable to the SEC or other enforcement agency. Whistleblowers who freely provide useful and original information to the agency are eligible.
It may take as long as two years or more to receive that award. In order to receive the award a whistleblower must also file a claim for it.
The SEC ultimately determines whether an individual is eligible for an award, and then to make the award to them. But there are reasons why someone who submitted a tip does not receive an award in the case. The most common reasons for denial are:
The information was not properly submitted according to the program rules
The information was not original
The information was not voluntarily submitted
The information did not lead to a successful enforcement action
The SEC puts these orders online and available to the public, like this one denying an award based on multiple factors.
Retaining Experienced SEC Whistleblower Attorneys
Our SEC whistleblower attorneys can help you if you have information regarding securities or investment fraud, violations of federal securities laws, false filings, market manipulation, or other misconduct. To be eligible, you must provide timely, credible, and original information or analysis.
Whistleblowers help the public by notifying authorities of conduct that harms the public, while also earning financial compensation for themselves.
Contact us through our online form or at (800) 975-4345 for a consultation. Our attorneys work on a contingency fee basis, which means it costs nothing to hire us and we have the incentive to get you the maximum award.