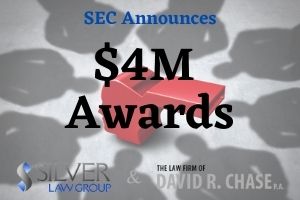 Four whistleblowers who assisted the SEC in two separate enforcement proceedings have been individually awarded a financial bounty as a result of providing important information.
The first order saw awards to two whistleblowers, with the first receiving a $2 million award. The provided information led to an investigation, and the individual provided continual assistance including in-person interviews and the identification of central entities and persons. The second whistleblower in the order was awarded $150,000 after providing more limited information expanding the investigation into additional allegations of misconduct at the same company.
The second order awarded $1.1 million to the first whistleblower, and the second in excess of $500,000. The first whistleblower alerted the SEC to the misconduct after reporting it internally. The second whistleblower's information was not as extensive, and not submitted as timely as the first one, with some "unreasonable delay." The two actions arose from the same "nucleus of facts." Therefore, this action was treated as a single covered action when determining the amount of awards given to both individuals. A third whistleblower was involved in this action. However, the SEC decided against awarding a bounty, and the individual chose not to seek reconsideration of that decision.
Retaining Experienced SEC Whistleblower Attorneys
Whistleblowers help everyone by notifying authorities of conduct that harms the public, while also earning financial compensation for themselves. Hiring experienced SEC counsel will greatly increase your chances of the SEC initiating an investigation based on your information. If you wish to remain anonymous, you must be represented by an attorney, who will submit everything on your behalf.
Silver Law and the Law Firm of David R. Chase jointly have experienced SEC whistleblower lawyers, including a former SEC Enforcement attorney on the team, so you will always have guidance throughout the process. Our SEC whistleblower attorneys can help you if you have information regarding securities or investment fraud, violations of federal securities laws, false filings, market manipulation, or other misconduct. You must provide timely, credible, and original information or analysis in order to be eligible.
Contact us through our online form or at (800) 975-4345 for a consultation. Our attorneys work on a contingency fee basis. This means that it costs you nothing to hire us, and we collect our fees when you receive an SEC bounty. Because we get paid when you do, we have the incentive to help you collect the maximum award available.