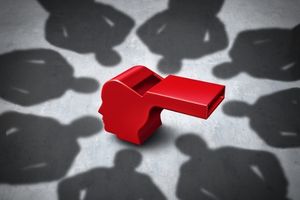 In August, CNN published an expose detailing accusations from a whistleblower that social media giant Twitter misled its board and U.S. Securities and Exchange Commission regulators about security vulnerabilities on its platform. The news has been explosive. The whistleblower is Peiter Zatko, Twitter's former head of security and a noted cybersecurity expert. But Twitter fired Zatko in early 2022.
In Zatko's report, sent to Congress and federal agencies, he alleges major security problems threaten users' personal information, company shareholders, national security, and democracy.
Twitter Whistleblower Allegations
Zatko's allegations are wide-reaching, from misleading the public about the prevalence of spam accounts on the Twitter platform to having foreign agents on the company's payroll. Other allegations include:
Mismanagement: Zatko's report describes a reckless environment at Twitter, with too many employees accessing Twitter's central controls and sensitive user information.
A cover-up: The report alleges that Twitter attempted to cover up security problems on the platform, with senior executives misleading the board and SEC regulators. Zatko also alleges that some of the security vulnerabilities could lead Twitter open to foreign spying, manipulation, and hacking.
Spying: Zatko claims that shortly before Twitter fired him, the U.S. government provided the company with information indicating that one or more employees were working for foreign intelligence services.
In his report, Zatko claims "egregious deficiencies, negligence, willful ignorance, and threats to national security and democracy."
Are the allegations overblown? It's important to remember that Twitter is also in the middle of a legal battle with Elon Musk after the Tesla CEO tried to renege on his massive takeover offer. Until Zatko blew the whistle on Twitter, most legal analysts reported that Twitter had the better legal argument in the battle with Musk. But these new allegations could have the court taking a closer look at Musk's claims that spam bots greatly inflated Twitter's user numbers, and the allegations that Twitter misled the SEC and Federal Trade Commission about its security practices. Our next article will discuss the other possible legal implications for Twitter.
If you're contemplating becoming an SEC whistleblower, you should consult an experienced whistleblower attorney as soon as possible. At Silver Law Group and the Law Firm of David R. Chase, our attorneys can provide legal guidance to protect your interests and your rights. Give us a call today at (800) 975-4345, or email us to set up a free consultation.