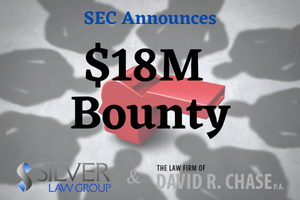 After another successful enforcement action, the SEC has awarded $18 million to three whistleblowers who each contributed vital information.
SEC whistleblower #1 alerted the SEC that the entity was engaging in fraudulent activity. They offered valuable information that led to the SEC's investigation into a "fraudulent scheme." Additionally, they provided the SEC staff with documentation and ongoing assistance throughout the investigation. The information gave SEC staff a substantial advantage that furthered the investigation and led to the success of the enforcement action.
After the beginning of the investigation, whistleblowers #2 and #3 offered additional information that also advanced the SEC's case. While some of second and third whistleblowers' information was the same as #1, they provided new information that was relevant to the charges in the action. This information was provided after the investigation was already underway, and led to lesser awards for both.
The SEC's order indicates that the amount of recovered investor funds indicated by the receiver would allow the three SEC whistleblowers to be awarded the sum of $18 million for their efforts. The defendants were required by the order to pay a sum of disgorgement and prejudgment interest. The court-appointed receiver's final report indicated that the final amount would satisfy both requirements.
A fourth individual who also applied for an award was denied based on the lack of original information that wasn't submitted in a timely fashion.
Retaining Experienced SEC Whistleblower Attorneys
SEC whistleblowers help everyone by notifying authorities of conduct that harms the public, while also earning financial compensation for themselves. Hiring experienced SEC whistleblower counsel may greatly increase your chances of the SEC initiating an investigation based on your information. If you wish to remain anonymous, you must be represented by an attorney, who will submit everything on your behalf.
Silver Law and the Law Firm of David R. Chase jointly have experienced SEC whistleblower lawyers, including a former SEC Enforcement attorney on the team, so you will always have guidance throughout the process. Our SEC whistleblower attorneys can help you if you have information regarding securities or investment fraud, violations of federal securities laws, false filings, market manipulation, or other misconduct. You must provide timely, credible, and original information or analysis in order to be eligible.
Contact us through our online form or at (800) 975-4345 for a consultation. Our attorneys work on a contingency fee basis. This means that it costs you nothing to hire us, and we collect our fees when you receive an SEC bounty. Because we get paid when you do, we have the incentive to help you collect the maximum award available.