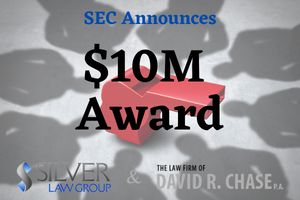 In their latest announcement, the SEC has awarded $10 million to a whistleblower who provided considerable assistance that led to a successful enforcement action.
The whistleblower met with SEC staff twice and brought them significant information. The charges in the enforcement action were closely aligned with the whistleblower's allegations, which were essential to the SEC's investigation.
In a statement in the SEC's press release, Chief of the SEC's Office of the Whistleblower Creola Kelly stated, "The whistleblower awarded today provided information that resulted in the return of a significant amount of money to harmed investors. This illustrates how the Whistleblower Program works to benefit, via financial remediation, investors who are victimized by those who violate our securities laws."
Payments to investors are paid from a Congressionally established fund which collects from fines and financial sanctions paid by companies who violate securities laws. Investor money is returned to the defrauded investors and never used to pay whistleblowers. Identities of whistleblowers are always kept confidential and any identifying information is redacted from the order when published.
SEC Whistleblower Program Updates
On August 20, 2022, the SEC also adopted two changes to their Whistleblower program to encourage more people to contribute information for enforcement activities.
In the first action, the SEC expanded the criteria where whistleblowers may be rewarded when participating in non-SEC enforcement actions.
In the second action, the SEC will no longer consider the total amount of an award to lower the amount, only when increasing it.
The amendments went into effect on October 3, 2022, thirty days after the amendments were published in the Federal Register.
Retaining An Experienced SEC Whistleblower Law Firm
Whistleblowers help everyone by notifying authorities of conduct that harms the public, while also earning financial compensation for themselves. Hiring experienced SEC counsel will greatly increase your chances of the SEC initiating an investigation based on your information. If you wish to remain anonymous, you must be represented by an attorney, who will submit everything on your behalf.
Silver Law and the Law Firm of David R. Chase jointly have experienced SEC whistleblower lawyers, including a former SEC Enforcement attorney on the team, so you will always have guidance throughout the process. Our SEC whistleblower attorneys can help you if you have information regarding securities or investment fraud, violations of federal securities laws, false filings, market manipulation, or other misconduct. You must provide timely, credible, and original information or analysis in order to be eligible.
Contact us through our online form or at (800) 975-4345 for a consultation. Our attorneys work on a contingency fee basis. This means that it costs you nothing to hire us, and we collect our fees when you receive an SEC bounty. Because we get paid when you do, we have the incentive to help you collect the maximum award available.