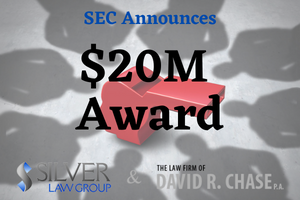 In a recent press release, the SEC announced that it had awarded a $20 million bounty to a whistleblower who provided credible and useful information, which helped the Enforcement Division complete an enforcement action much quicker. Through offering additional information and continuing to assist staff, the SEC's enforcement action was ultimately successful.
The SEC whistleblower offered information voluntarily, offering substantial information and ongoing assistance that resulted in the success of the enforcement action. The whistleblower was involved in the wrongdoing for only a short period of time, and was acting at the direction of a supervisor. According to the SEC whistleblower order, the SEC took into consideration these facts when issuing the award.
Two other individuals requested an award but were denied. Claimant 2 submitted two TCRs (Tips, Complaints and Referrals). In the first, the claimant alleged that their company impeded their communications with the SEC. The second TCR offered staff no new information that was used in nor contributed to their investigation.
Claimant 5 also submitted information that was did not contribute to the success of the enforcement action. The claimant stated that they submitted information to the Enforcement's Office of Market Intelligence ("OMI") and believed that OMI staff would pass along that information to the enforcement staff handling the investigation. Ultimately, the information submitted by Claimant 5 did not lead or contribute to the success of the enforcement action, and thus the claim was denied.
Monies paid to a whistleblower are taken from financial sanctions imposed on wrongdoers, such as fines and administrative fees. No investors monies are ever used to pay SEC bounties. Whistleblower identity is protected by the Dodd-Frank Act. No information is disclosed that could be used to identify the whistleblower, with limited exceptions.
Retaining Experienced SEC Whistleblower Attorneys
Whistleblowers help protect investors and the financial markets by notifying the SEC of fraudulent conduct, while also potentially earning financial compensation. Hiring experienced SEC whistleblower counsel may greatly increase your chances of the SEC initiating an investigation and, ultimately, obtaining a SEC whistleblower bounty.  If you wish to remain anonymous, you must be represented by an attorney, who will prepare and submit all necessary documentation on your behalf.
Silver Law and the Law Firm of David R. Chase are experienced SEC whistleblower lawyers, and Mr. Chase formerly served as Senior Counsel in the Enforcement Division of the SEC, so you will always have guidance throughout the process. Our SEC whistleblower attorneys can help you if you have information regarding securities or investment fraud, violations of federal securities laws, false filings, market manipulation, foreign bribery to secure business, or other misconduct. You must provide timely, credible, and original information or analysis in order to be eligible.
Contact us through our online form or at (800) 975-4345 for a consultation. Our attorneys work on a contingency fee basis, meaning that it costs you nothing to hire us, and we collect our fees only in the event you receive an SEC bounty. Because we get paid only when you do, we have a strong incentive to help you collect the maximum SEC bounty possible.