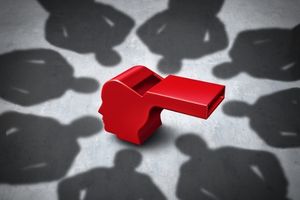 Most employees aren't surprised when they're asked to sign a non-disclosure agreement (NDA) as a condition of employment. It's one way to warn and penalize employees about telling company secrets. But when the NDA prohibits an employee from becoming a whistleblower, the SEC steps in.
From 2015 through 2019, Brinks hired between 2,000 and 3,000 new employees annually. The company required new employees to sign an NDA that prevented them from disclosing any financial or business information to third parties without written permission from the company. This included governmental agencies.
The highly restrictive wording failed to give an exemption for an employee who wanted to become an SEC whistleblower and disclose wrongdoing. Employees who did violate the agreement—for any reason—were subject to $75,000 in liquidated damages, along with Brinks' legal fees.
In an order issued by the SEC, Brinks neither admitted nor denied the findings, and agreed to pay a $400,000 penalty in accordance with a cease-and-desist order. The order found that the company violated Rule 21F-17(a) of the Securities Exchange Act of 1934. The company also complied with specific undertakings that includes revising its employee agreements and NDAs.
Additionally, the SEC says the language used in the agreements violated Section 21F and Rule 21F-17(a) of the Securities Exchange Act that "encourage[s] individuals to report to the commission."
The SEC's order also says that the company must include in all employment-related agreements with U.S.-based employees a clause that acknowledges nothing in the NDA "'limits (an) employee's ability to file a charge or complaint with the Securities and Exchange Commission, or any other federal, state, or law enforcement agency," including providing documents or other information, and also does not "limit (an) employee's right to receive an award for information provided to government agencies.'"
As part of the settlement with the SEC, Brinks agreed to contact all current and former employees from 2015 through 2019 to notify them of this update. Brinks must then notify the SEC when the task has been completed.
Retaining Experienced SEC Whistleblower Attorneys
Whistleblowers help everyone by notifying authorities of conduct that harms the public, while also earning financial compensation for themselves. Hiring experienced SEC counsel will greatly increase your chances of the SEC initiating an investigation based on your information. If you wish to remain anonymous, you must be represented by an attorney, who will submit everything on your behalf.
Silver Law and the Law Firm of David R. Chase jointly have experienced SEC whistleblower lawyers, including a former SEC Enforcement attorney on the team, so you will always have guidance throughout the process. Our SEC whistleblower attorneys can help you if you have information regarding securities or investment fraud, accounting fraud, violations of federal securities laws, false filings, market manipulation, or other misconduct. You must provide timely, credible, and original information or analysis in order to be eligible.
Contact us through our online form or at (800) 975-4345 for a consultation. Our attorneys work on a contingency fee basis. This means that it costs you nothing to hire us, and we collect our fees when you receive an SEC bounty. Because we get paid when you do, we have the incentive to help you collect the maximum award available.