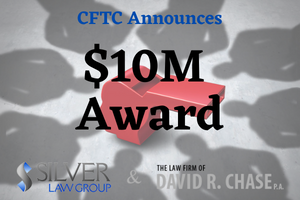 The Commodities Futures Trading Commission (CFTC) recently awarded a bounty of $10 million to a whistleblower who offered original information voluntarily. The information led to the opening of an investigation and a subsequent successful enforcement action.
According to the order, the individual provided the information properly via a Form TCR that involved information previously unknown to the CFTC, and in violation of the Commodity Exchange Act (CEA.) The whistleblower was under no obligation to provide this information, and provided it at the outset of the investigation, when the CFTC was unaware of the ongoing conduct.
What Is The Commodity Exchange Act (CEA)?
Passed in 1936, the Commodity Exchange Act, or CEA, replaced the Grain Futures Act of 1922. The CEA established the CFTC to oversee and regulate activities related to and including commodities and futures trading. The agency is primarily responsible for the oversight of global markets, agriculture, technology, and energy and environmental markets.
Following the global financial crisis of 2007-2008, the CFTC was also given oversight of the over-the-counter swaps market, which had previously been unregulated.
Bitcoin and other cryptocurrencies are now commodities under the CFTC, and the agency has general enforcement authority over all cryptocurrency markets in order to fight manipulation and fraud.
Retaining Experienced CFTC Whistleblower Attorneys
Whistleblowers help everyone by notifying authorities of conduct that harms the public, while also earning financial compensation for themselves. Hiring experienced counsel will greatly increase your chances of the CFTC initiating an investigation based on your information. If you wish to remain anonymous, you must be represented by an attorney, who will submit everything on your behalf.
Silver Law and the Law Firm of David R. Chase jointly have experienced SEC whistleblower lawyers, including a former SEC Enforcement attorney on the team, so you will always have guidance throughout the process. Our CFTC whistleblower attorneys can help you if you have information regarding securities or investment fraud, violations of federal securities laws, false filings, market manipulation, or other misconduct. You must provide timely, credible, and original information or analysis in order to be eligible.
Contact us through our online form or at (800) 975-4345 for a consultation. Our attorneys work on a contingency fee basis. This means that it costs you nothing to hire us, and we collect our fees when you receive an SEC bounty. Because we get paid when you do, we have the incentive to help you collect the maximum award available.