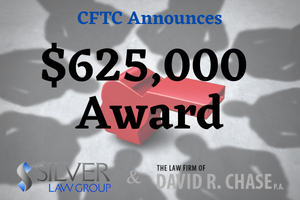 The Commodity Futures Trading Commission (CFTC) has awarded a $625,000 bounty to four whistleblowers who provided information and assistance in an investigation.
A total of nine claimants submitted award applications for this enforcement action. Of that number, only four received awards. Claimants 2, 3, 4, and 6 received bounties from the civil monetary penalties levied against the two defendants involved in the enforcement action. Claimant 4 offered the highest level of assistance and cooperation and received the largest portion of the bounty. All four offered substantial assistance that included providing names and other information which supported the Commission's action against the defendants.
The Claims Review Staff (CRS) decided to deny award applications of claimants 1, 5, 7, 8, and 9. These claimants failed to meet the program's requirements. Specifically, CRS found that Claimant 1's wasn't voluntary, because it was provided after they received multiple requests including a subpoena from CFTC staff.
After receiving the preliminary determination, Claimant 1 requested the records supporting that determination. CFTC Whistleblower staff provided the material shortly thereafter. Claimant 1 then submitted a letter contesting the preliminary determination. Because this claimant could not offer any new information to support their position, and nothing in the record indicated the voluntary submission of information, the request was again denied. This claimant provided the information only after multiple requests from CFTC. Therefore, the claimant was not eligible to receive an award in this case.
No other claimants contested the CRS's decision.
The identity of each CFTC whistleblower is protected under the Dodd-Frank Wall Street Reform and Consumer Protection Act of 2010. Information about companies or other involved participants is kept confidential to protect everyone involved and to thwart retaliation. The Commodity Exchange Act (CEA) also protects whistleblowers, which includes individual dollar amounts of awards or references to the enforcement action.
Like the SEC's Whistleblower program, the CFTC's Customer Protection Fund pays bounties to whistleblowers who provide this information and assistance. The Fund was established by Congress and is financed entirely through monetary sanctions paid to the CFTC by violators of the CEA.
Retaining Experienced CFTC Whistleblower Attorneys
Whistleblowers help everyone by notifying authorities of conduct that harms the public, while also earning financial compensation for themselves. Hiring experienced ounsel will greatly increase your chances of the SEC initiating an investigation based on your information. If you wish to remain anonymous, you must be represented by an attorney, who will submit everything on your behalf.
Silver Law and the Law Firm of David R. Chase jointly have experienced SEC whistleblower lawyers, including a former SEC Enforcement attorney on the team, so you will always have guidance throughout the process. Our SEC whistleblower attorneys can help you if you have information regarding securities or investment fraud, violations of federal securities laws, false filings, market manipulation, or other misconduct. You must provide timely, credible, and original information or analysis in order to be eligible.
Contact us through our online form or at (800) 975-4345 for a consultation. Our attorneys work on a contingency fee basis. This means that it costs you nothing to hire us, and we collect our fees when you receive an SEC bounty. Because we get paid when you do, we have the incentive to help you collect the maximum award available.