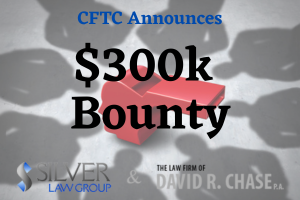 The Commodity Futures Trading Commission (CFTC) announced an award of more than $300,000 to a whistleblower who submitted information to the agency regarding a company's misconduct.
Information from the whistleblower was "precise," and described exactly the activity involved, leading to the CFTC's Enforcement Division to open an investigation. The individual provided continual assistance during the investigation, offered additional evidence along with interpretations and explanations for CFTC staff. As a result, CFTC staff were able to move forward with the investigation while conserving resources.
In the order, the CFTC's Deputy Secretary Robert Sidman said that "Claimant's information precisely and accurately described the misconduct. . .both factually and legally."  The whistleblower met with staff multiple times to discuss the case, providing key evidence and all requested assistance. Everything provided by the whistleblower led to a successful enforcement action.
As always, all identifying information about the individual, the company, and the misconduct involved are redacted from the CFTC's order in accordance with The Dodd-Frank Act. This includes the actual amount of the whistleblower bounty, the exact nature of the enforcement action, under the Commodity Exchange Act to protect the identity of the whistleblower. The bounty amount is taken from monetary sanctions issued against the company in the covered action.
Retaining Experienced CFTC Whistleblower Attorneys
Whistleblowers help everyone by notifying the CFTC of conduct that harms the investing public, while also earning financial compensation for themselves. Hiring experienced counsel may greatly increase the probability that the an investigation will be initiated based on your information. If you wish to remain anonymous, you must be represented by an attorney, who will submit everything on your behalf.
Silver Law and the Law Firm of David R. Chase jointly have experienced SEC whistleblower lawyers, including a former SEC Enforcement attorney on the team, so you will always have guidance throughout the process. Our SEC whistleblower attorneys can help you if you have information regarding securities or investment fraud, violations of federal securities laws, false filings, market manipulation, or other misconduct. You must provide timely, credible, and original information or analysis to be eligible.
Contact us through our online form or at (800) 975-4345 for a consultation. Our attorneys work on a contingency fee basis. This means that it costs you nothing to hire us, and we collect our fees only if you receive an SEC bounty. Because we get paid when you do, we have the incentive to help you collect the maximum award available.