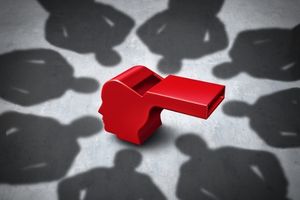 New York-based hedge fund investment and technology development firm D. E. Shaw has settled with the SEC over charges that it violated the rights of current and former employees when it raised "impediments" for them to become whistleblowers. The SEC also fined D. E. Shaw $10M to settle the charges. D. E. Shaw has since updated its documentation to allow employees to contact the SEC and other agencies to report possible misconduct.
At issue is the firm's requirement that employees sign agreements that prohibited the disclosure of sensitive or confidential information to any third party. Without an exception for possible SEC whistleblowers, employees were prevented from contacting the SEC with any damning information they felt necessary. Exiting employees were also required to sign a release indicating that they had not filed any reports with any governmental agency, or risk losing deferred compensation and other financial incentives.
The SEC's investigation discovered that from at least 2011 through 2019, D. E. Shaw required onboarding employes to sign an agreement that barred them from discussing or disclosing any confidential corporate information with any person or party outside of the firm without prior express permission, or unless required by law or by a court order.
From 2011 through mid-2023, the firm also required departing employees to sign an agreement stating that they had not filed any complaints with a governmental agency, department, or official. Making a complaint could cost the employees deferred and other compensation potentially worth millions of dollars. This violates an individual's right to participate in whistleblower activity.
D.E. Shaw did send a company-wide email in 2017 indicating that employees could speak with regulators about misconduct without prior permission from the firm. However, its employment agreements did not include this language until 2019, and were not in exit agreements until 2023 following the SEC's investigation.
By limiting employees' ability to file whistleblower actions regarding possible securities law violations, D. E. Shaw violated Rule 21F-17(a) of the Securities Exchange Act of 1934 by attempting to prohibit employees from speaking with federal regulators. In response to the SEC's order, the firm agreed to a cease and desist from violating this rule that protects whistleblowers. The firm also agreed to a censure and pay a civil penalty of approximately $10 million.
Retaining Experienced SEC Whistleblower Attorneys
Whistleblowers help everyone by notifying the SEC of conduct that harms the investing public, while also earning financial compensation for themselves. Hiring experienced SEC counsel may greatly increase the probability that the SEC will initiate an investigation based on your information. If you wish to remain anonymous, you must be represented by an attorney, who will submit everything on your behalf.
Silver Law Group and the Law Firm of David R. Chase jointly have experienced SEC whistleblower lawyers, including a former SEC Enforcement attorney on the team, so you will always have guidance throughout the process. Our SEC whistleblower attorneys can help you if you have information regarding securities or investment fraud, violations of federal securities laws, false filings, market manipulation, or other misconduct. You must provide timely, credible, and original information or analysis to be eligible.
Contact us through our online form or at (800) 975-4345 for a confidential consultation. Our attorneys work on a contingency fee basis. This means that it costs you nothing to hire us, and we collect our fees only if you receive an SEC bounty. Because we get paid when you do, we have the incentive to help you collect the maximum award available.