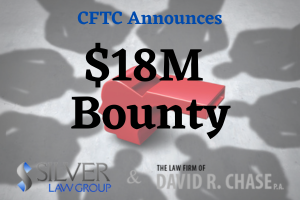 The Commodities Futures Trading Commission (CFTC) recently announced the award of $18 million to a single whistleblower who provided substantial assistance to the agency. This information led to a successful CFTC enforcement action as well as a related action with another federal agency. The whistleblower met with Division of Enforcement (DOE) staff on multiple occasions to discuss their concerns. Information from the individual was "significant in amount and quality," according to the CFTC press release.
In the order, the CFTC noted that the individual's contributions "enhanced Division staff's ability to resolve the Covered Action."  Without this information, CFTC staff would have been unable to establish specific facts in the covered action that were "underlying."
The order also noted that the individual provided this information voluntarily and prior to any requests from the CFTC, Congress, or any state or federal authority.
An online report provided by the individual via Form TCR and directly to DOE staff was responsible for both opening the investigation and providing one of the primary issues in the covered action. Additionally, the information "strongly 'supported one or more successful claims brought in the Commission action.'"
Continued assistance from the individual included timely responses to phone calls and requests for information and assistance, which greatly assisted staff and helped them interpret key evidence.
The Commodity Exchange Act (CEA) provides confidentiality protection for whistleblowers regardless of whether they are awarded a financial bounty. Their identity and the amount of the award are redacted from the published order.
Retaining Experienced CFTC Whistleblower Attorneys
Whistleblowers help everyone by notifying the CFTC of conduct that harms the investing public, while also earning financial compensation for themselves. Hiring experienced counsel may greatly increase the probability that an investigation will be initiated based on your information. If you wish to remain anonymous, you must be represented by an attorney, who will submit everything on your behalf.
Silver Law Group and the Law Firm of David R. Chase jointly have experienced CFTC whistleblower lawyers, including a former SEC Enforcement attorney on the team, so you will always have guidance throughout the process. Our whistleblower attorneys can help you if you have information regarding securities or investment fraud, violations of federal securities laws, false filings, market manipulation, or other misconduct. You must provide timely, credible, and original information or analysis to be eligible.
Contact us through our online form or at (800) 975-4345 for a consultation. Our attorneys work on a contingency fee basis. This means that it costs you nothing to hire us, and we collect our fees only if you receive a bounty. Because we get paid when you do, we have the incentive to help you collect the maximum award available.