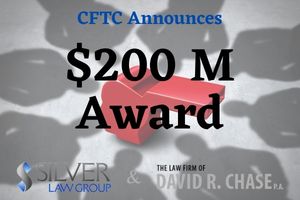 The Commodities Futures Trading Commission (CFTC) announced that almost $200 million was awarded to a whistleblower who provided information that contributed to an open investigation and led to successful actions by the CFTC, another U.S. federal regulator, and a foreign regulator.
A press release from the CFTC stated that the information provided by the whistleblower "led the CFTC to important, direct evidence of wrongdoing. In order to qualify for an award, a whistleblower who significantly contributed to the success of an enforcement action must demonstrate that there is a "meaningful nexus" between the information provided and the CFTC's ability to successfully complete its investigation, and to either obtain a settlement or prevail in a litigated proceeding."
The CFTC has given whistleblower awards for enforcement actions that have resulted in sanctions of over $3 billion. The CFTC's whistleblower program was created under the Dodd Frank Wall Street Reform and Consumer Protection Act of 2010. The program's first award was in 2014, and the CFTC has awarded mover $300 million to whistleblowers.
CFTC Whistleblower Attorneys
The CFTC has jurisdiction of the commodities and futures markets and oversees the activities of the National Futures Association (NFA) which regulates commodities brokerage firms and associated persons. The NFA also operates an investor dispute arbitration forum for claims against commodities firms accused of misconduct by investors.
The CFTC's whistleblower program receives complaints relating to the trading of commodities and futures which include claims involving precious metals, cryptocurrencies, futures, and other products. Our CFTC Whistleblower attorneys represent Wall Street insiders, traders, and investors in possession of material information which may lead to an enforcement action by the CFTC.
Hiring Experienced Whistleblower Lawyers
Whistleblowers provide a public service by notifying the authorities of harmful conduct, while earning financial compensation for themselves. Working with experienced whistleblower lawyers can increase your chances of having an investigation initiated based on your information.
Hiring an attorney allows you to remain anonymous, as your lawyer can submit your tip for you.
Silver Law and the Law Firm of David R. Chase together have experienced SEC whistleblower lawyers, including a former SEC Enforcement attorney on the team. Our SEC whistleblower attorneys can help you if you have information regarding securities or commodities fraud, violations of the federal securities laws, or other misconduct.
You must provide credible, timely, and original information or analysis that leads to a sanction of $1 million or more to be eligible to receive an award. A whistleblower can receive between 10% and 30% of the money collected.
Contact us through our online form or at (800) 975-4345 for a no-cost consultation. We work on a contingency fee basis, so it costs nothing to hire us, and we only collect fees if and when you receive a bounty. Since we only get paid when you do, we have the incentive to help you collect the maximum award.