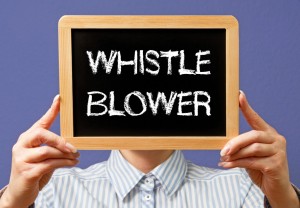 Let me be clear: Retaliation protections are a key component of the whistleblower program, and we will bring charges against companies or individuals who violate the anti-retaliation protections when appropriate.
—Jay Clayton,
Former Chairman, Securities and Exchange Commission
It's axiomatic that whistleblowing only works if people are willing to come forward and tell authorities of companies' wrongdoing. That's why Securities and Exchange Commission (SEC) sees retaliation—being punished for having made a report of wrongdoing—as a primary threat to its whistleblowing initiative: If people believe they will be punished for reporting companies' malfeasance to the SEC, then they're less likely to come forward.
Therefore, the SEC has rules that bar retaliation against whistleblowers after they've reported potential securities law violations, and the SEC has been vigorously enforcing them.
Under the law, "employers may not discharge, demote, suspend, harass, or in any way discriminate against an employee in the terms and conditions of employment who has reported conduct to the Commission that the employee reasonably believed violated the federal securities laws."
Examples of retaliation that have resulted in awards to whistleblowers include:
Termination of employment
Denial of bonuses, benefits, or promotions
Loss of a supervisory position
Demotion to a more junior role
Assigned tasks related to whistleblowing activity
Unique or special hardships
Harassment
If the last two seem vague, that's the point: The courts and Commission construe the retaliation broadly, to whatever is considered an adverse action severe enough that it is intended to dissuade subsequent employees from reporting. If "We're going to make an example out of you" describes the scenario, that's likely to be considered unlawful retaliation.
Scott Silver, managing partner of Silver Law Group and the chair of AAJ's securities and financial fraud group, has many years experience representing Wall Street insiders. In 2020, Silver's client, a financial advisor at a major Wall Street wirehouse, was awarded a substantial amount after blowing the whistle on a fraudulent trading program.
If fears of retaliation are causing you to be reticent about becoming a whistleblower, or if you've already experienced retaliation, contact the securities attorneys at the Silver Law Group and the Law Firm of David R. Chase for help. With many years of experience, we know how to help you file a successful report and how to respond to retaliation. For a free, confidential consultation about your information, contact us through our website or call us today at (800)975-4345.