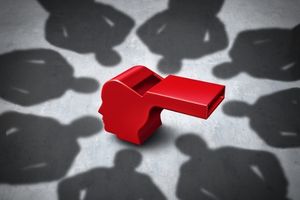 After a broker or investment advisor leaves a FINRA member firm, a broker dealer is required to file a Form U5 with FINRA. This form details the broker's termination. This is the case even if the broker voluntarily terminates his or her employment, or the individual is no longer working as a broker, but is still working for the firm in a different capacity.
Many brokers have found after leaving that some firm uses the Form U5 to damage the broker's reputation as a securities representative. This is similar to employees who leave other types of jobs, sometimes on good terms, but are either refused a reference or given a bad one. In either case, the individual changing employment finds him or herself in a difficult position. This is particularly true if the employment was not terminated voluntarily.
Brokers who feel like they have been maligned by former employers have increasingly sought legal counsel in order to defend themselves, clear their name, and usually with a financial settlement from their former firm as well as FINRA.
What is a Form U5?
Known as the Uniform Termination Notice for Securities Industry Registration, FINRA requires that broker dealers file this form after a broker's employment terminates for whatever reason. Whether the broker leaves to go to another firm, leaves the securities industry for a different line of work, or is terminated for any type of misconduct, the Form U5 notifies FINRA that this person is no longer licensed with the firm.
When a broker has been discharged for misconduct, it's in the firm's best interest to make FINRA aware that the individual was engaged in some form of misconduct, be it violating firm policies or engaging in illegal activities.
The Form U5 also makes the broker's misconduct a public record so that others will be aware that he or she was not completely honest in their business practices. Every broker's Form U5 Five the brokers CRD (Central Registration Depository) record. It is also available for brokerage firms to use for their hiring decisions. This is similar to an HR person looking up a job candidate's social media.
Unfortunately, disagreements with the firms have led to brokers learning later that there were investigations and allegations of misconduct.
Broker Pushback Against U5 Defamation
Brokers who have voluntarily terminated their employment with a firm and were unaware of any investigation of their practices may have been professionally maligned by the claims made in the U5 form. In many cases, the brokers were completely unaware of allegations and disclosures until months or even years after they appeared on CRD records. At this point, they must retain the services of an attorney to fight the claims.
A broker has the right to dispute the disclosures made by their former firms, especially if the departure was less than amicable. This can cause problems for the broker who is seeking employment at another firm if their reputation was damaged by the inaccurate Form U5. This incorrect information can effectively ensure that the broker never works in the securities industry again if not dealt with properly.
Several recent cases of brokers fighting back against damaging language in a Form U5 has led to some victories for brokers, including financial settlements. However, it can be at least two to three years before a broker receives that settlement. But at that point, the broker has no more business unless he or she became registered at a different broker dealer.
Many times, these disputes accompany claim of employment discrimination, breach of contract, or another form of defamation by their former firm. Brokerages do have the option to submit an amended Form U5 error is discovered in the first one. However, many firms failed to do so. Incorrect information may also be due to a clerical or other error. The broker should attempt to work with the broker dealer within the 30-day period.
"If you just talk to your firm, you might be able to have a voluntary termination put down, rather than being terminated, which is good because, once it's a termination, they have to give a reason," said Scott Silver of Silver Law Group, who represents investors and brokers from his Florida and New York law offices.
Whistleblowers
Brokers who report misconduct by others or by the firm that they work for may also find themselves in the position of being a whistleblower. That is, they have inside knowledge or have witnessed misconduct at the brokerage where they are employed.
Should a broker find themselves in a position of becoming a whistleblower, it's best to discuss your concerns with an attorney who can guide you through the process.
Retaining Experienced SEC Whistleblower Attorneys
Whistleblowers help everyone by notifying authorities of conduct that harms the public, while also earning financial compensation for themselves. Hiring experienced SEC counsel will greatly increase your chances of the SEC initiating an investigation based on your information. If you wish to remain anonymous, you must be represented by an attorney, who will submit everything on your behalf.
Silver Law and the Law Firm of David R. Chase jointly have experienced SEC whistleblower lawyers, including a former SEC Enforcement attorney on the team, so you will always have guidance throughout the process. Our SEC whistleblower attorneys can help you if you have information regarding securities or investment fraud, violations of federal securities laws, false filings, market manipulation, or other misconduct. You must provide timely, credible, and original information or analysis in order to be eligible.
Contact us through our online form or at (800) 975-4345 for a consultation. Our attorneys work on a contingency fee basis. This means that it costs you nothing to hire us, and we collect our fees when you receive an SEC bounty. Because we get paid when you do, we have the incentive to help you collect the maximum award available.