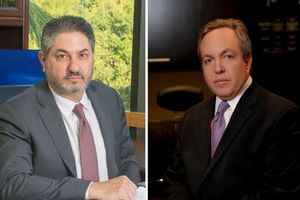 SEC Whistleblower attorneys Scott Silver and David Chase were recently the featured guests on 'Cut To The Chase' podcast to discuss the SEC whistleblower program and their work representing whistleblowers.
Cut To The Chase podcast is hosted by attorney and activist Gregg Goldfarb and focuses on legal news and public interest news and features interviews from experts in their field.
Scott Silver and David Chase each have separate law firms and work together on whistleblower cases. Scott Silver is the managing partner of Silver Law Group, a nationally-recognized law firm that helps investors recover losses caused by fraud, Ponzi schemes, and stockbroker misconduct.
David Chase, who formerly worked as an attorney in the SEC's Enforcement Division, now runs The Law Firm of David R. Chase P.A. where he works on securities and regulatory matters and helps investors recover losses.
SEC Whistleblower Program
On the podcast, Scott and David explained what the SEC whistleblower program is and how having an experienced whistleblower attorney can help you maximize your chance of success.
The SEC (Securities and Exchange Commission) whistleblower office was created in 2010 as a result of the passing of the Dodd-Frank Act. The program was designed to give a financial incentive to people with knowledge of wrongdoing to come forward, report the misconduct, and help the public.
The first SEC whistleblower award was given in 2012. As of this writing, the SEC states that it has awarded $1.2 billion to 236 individuals.
Whistleblowers must voluntarily provide the SEC with original, timely, and credible information or analysis. An individual may be eligible for an award if their tip leads to an investigation and sanction. Whistleblowers can receive up to 30% of sanctions of $1 million or more, and they are paid entirely from money collected from securities laws violators. No money is withheld from victims of fraud or taken from taxpayers to pay whistleblowers.
The SEC protects the confidentiality of whistleblowers by not revealing identifying information about them to the public. To remain completely anonymous, you must have an attorney represent you and submit all documentation on your behalf.
Who Can Be A Whistleblower?
Scott Silver, who authored a whistleblower primer, which can be downloaded free of cost here, said that a variety of people can become a whistleblower, "We've had whistleblowers come to us from all different angles, from victims of Ponzi schemes, which we've been able to use to help the SEC shut down active, ongoing Ponzi schemes, to Wall Street insiders, to due diligence and compliance officers who spot red flags."
Scott told 'Cut To The Chase' podcast that often whistleblowers are employees at financial institutions who are upset that misconduct isn't being corrected, even after it's been reported.
"A lot of the cases we've seen are actually coming from Wall Street insiders who first report misconduct at their own company without any internal action," Scott said.
Scott also emphasized the importance of providing specific, actionable information to the SEC. "You can't just submit a tip that says 'Hey, I think my neighbor's up to no good. You should investigate him.'"
David Chase added that whistleblowers may also be insiders at public or private companies that are raising funds, or anyone with knowledge of violations of the federal securities laws, such as "illegal, fraudulent acts like Ponzi schemes or market manipulation…or even insider trading."
When asked what kind of cases are likely to be investigated by the SEC, David Chase said that cases involving large loss of money and systemic fraud or misconduct that harm many investors, especially older investors, are more likely to be investigated.
"To make a decision to allocate its very limited resources (the SEC) needs a tip with concrete details, with specifics, with backup documentation ideally, with analysis, that demonstrates to them that this is a credible tip…Having worked at the SEC, and defending SEC cases, I have a very strong sense of the cases the SEC is likely to pursue," David said.
David continued that his experience working for the SEC has given him the knowledge to write whistleblower tips with the same language and concepts that he used to write internal memos at the SEC, potentially giving a whistleblower the best odds of having the SEC open an investigation of their tip.
Hiring An Experienced SEC Whistleblower Attorneys
If you have information regarding securities or investment fraud and are interested in filing a whistleblower tip, such as misappropriation, market manipulation, Ponzi Schemes, or other fraud, please contact our experienced SEC whistleblower attorneys for a no-cost consultation.
You may reach us through our online form or at (800) 975-4345 for a confidential consultation. Our attorneys work on a contingency fee basis, so costs nothing to hire us, and we only get paid if you obtain a whistleblower award from the SEC.