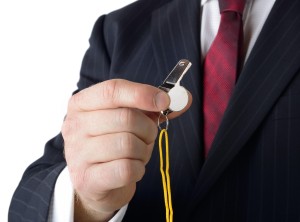 While some whistleblowers experience guilt, others are struggling with anger. Frequently, those who submit a whistleblower complaint to the Securities and Exchange Commission (SEC) have been wronged. This wrongdoing may manifest financially, emotionally, or both.
Importantly, the SEC does its part to incentivize whistleblowers by offering the opportunity to financially recoup some of their losses. Those who provide "original information" to the SEC, which leads to a successful action and monetary sanctions exceeding $1 million against the wrongdoer, are entitled to an award. While eligible whistleblowers will be awarded a percentage of the sanctions recouped, this award is not the primary motivation behind blowing the whistle to begin with.
SEC whistleblowers have been instrumental in returning millions of dollars to victims of Ponzi schemes and other investment frauds.
Managing Hostile Feelings Towards Illegal Actors
Violations of trust and loyalty are difficult to accept when friends or colleagues commit financially fraudulent acts. Not only did these wrongdoers jeopardize the well-being of those who relied on them, but they also disregarded personal relationships when they made the decision to commit violations of federal securities law.
Although we do not frequently associate federal securities law with high emotional stakes, the fact is that it's often difficult for whistleblowers to separate their personal feelings of hostility from the legal action at hand. It is important, however, that whistleblowers do so. A clear-headed approach to your SEC report ensures that every critical fact gets included, better enabling the SEC to do their job in investigating the complaint. Experienced SEC whistleblower lawyers will help you file the type of report that gets the SEC's attention.
SEC Whistleblower Attorneys Maximize Your Success
The SEC receives thousands of whistleblower complaints every year, and whistleblowers with legal representation are better positioned to have their complaints investigated. Experienced whistleblower representation ensures your complaint puts forth the most pertinent facts, and that it isn't clouded by feelings of anger or resentment. While those feelings are valid, they do not amplify your odds of success with the SEC, who will ultimately administer justice.
Attorneys of the Silver Law Group and the Law Firm of David R. Chase are vastly experienced in issues of securities law violations and the whistleblower complaint process. Lead attorney, Scott L. Silver, a former Wall Street defense attorney, and David R. Chase, who worked within the Enforcement Division of the SEC before transitioning into private practice, each bring invaluable know-how to the whistleblower complaint process. Contact our team online here or call (800) 975-4345 today, for a free and confidential consultation.