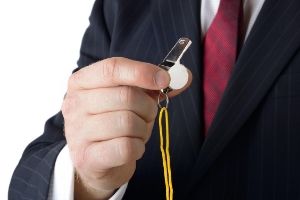 In our last post, we were talking about how scammers are unfortunately robbing investors with claims that they can purchase pre-initial public offerings (IPOs). And how the Securities and Exchange Commission (SEC) and Financial Industry Regulatory Authority (FINRA), the not-for-profit overseeing broker-dealers, both effectively warn that, if someone's not already an accredited investor, they should stay away from pre-IPO investing. It's probably a scam.
While the SEC and FINRA websites include lists of red flags for investors, a case brought in 2020 against Mark Lisser gives us a helpful look into what those on the inside should be looking for if they are contemplating becoming an SEC whistleblower by contacting the SEC about a pre-IPO scam.
For example, an unnamed "Salesperson 1" (likely a whistleblower who brought Lisser's scam to the SEC's attention) informed the SEC how Lisser misled both staff and customers. The company was unclear about how sales staff were paid and said they'd change accounting to avoid calling bonuses commissions. Lisser transferred the investment firm's money to his personal bank accounts, and he paid salespeople with personal checks. He created a new LLC that he also used to transfer funds out of the company and to pay himself and a couple of staff members' personal expenses.
When it came to potential investors, Lisser provided all of his sales team with a script they had to use during cold calls—which insisted this sale was an unmissable opportunity. Lisser did not inform investors of the markups he was charging. Lisser frequently (and falsely) promised that his firm was an investor/part-owner of the pre-IPO firm. He was getting agreements for the right to transfer shares from other unregistered companies, but he wouldn't hold the shares.
The criminal wrongdoing was pervasive. And there were red flags of unethical, if not illegal, from the start. Personal checks. Ambiguous ways to pay staff. Commingling of funds. Aggressive sales scripts. Working with other unregulated firms. Hiding fees and markups. And then it escalated from there.
If you are seeing red flags such as these, and are considering becoming a whistleblower, remember that the SEC has an award program for those who provide the SEC with a tip that leads to a successful prosecution. They may be eligible to get 10-30% of the money recovered by the federal government.
But that's why you want experienced securities and whistleblowing attorneys on your side. To make the strongest case possible on two fronts. The first is that the case leads to the ringleaders' prosecution, and the second is the one that will ultimately help you earn an award.
Contact the experienced attorneys at Silver Law Group and the Law Firm of David R. Chase. With years of experience in securities fraud and SEC whistleblower tips our attorneys have formed a strategic alliance to help SEC whistleblowers. For a free, confidential consultation, email us or call us today at (800) 975-4345.