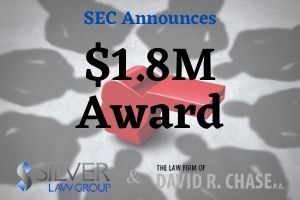 Scott Silver, Silver Law Group's managing partner and publisher of www.secwhistleblowerlawyers.net, represented an SEC whistleblower in a $1.8 million award for providing critical information that helped the SEC recover millions of dollars for investors.
Scott Silver represented the whistleblower with Boca Raton attorney James Sallah. Both attorneys were recently interviewed for an article on Law.com and Daily Business Review.
SEC Whistleblower Complaint
The whistleblower worked as a broker at Morgan Stanley. He and others were told about the CitiFX Alpha trading program, which he recommended to clients in 2010 and 2011 believing it was a safe investment because of false and misleading statements made to him.
The clients who invested in the program lost a significant amount of money. The whistleblower later found out that the program had not been approved or reviewed by Morgan Stanley, and that Citigroup had misrepresented the risk involved.
"He was very disturbed about what he knew versus what the investors, his clients, the people who had entrusted him with their money, were seeing," Scott Silver told the Daily Business Review about the whistleblower.
Morgan Stanley did not seem motivated to remedy the problem, so the whistleblower decided to file a complaint with the Securities and Exchange Commission (SEC) with the help of Silver Law Group and James Sallah.
Whistleblowers are not required to be represented by an attorney, but the SEC does recommend that they speak with an attorney. Doing so can provide the best odds of having the tip investigated, and of getting the maximum award. The SEC receives thousands of tips a year, and only a fraction of them are investigated. So having an experienced attorney to help present your information in the best way is invaluable. "You need to deliver it in a box with a red bow," Scott Silver said.
Whistleblowers may file their complaint and do nothing else, but our client provided ongoing assistance to the government and met with investors to encourage them to seek legal counsel.
Morgan Stanley and Citigroup settled with the SEC for $5.9 million. In a press release, the SEC said that the whistleblower "provided information that would have been difficult to detect in the absence of the tip and provided extraordinary assistance to SEC staff resulting in the return of money to investors."
Earning the Maximum Whistleblower Award
Whistleblowers are eligible for between 10% and 30% of the sanction collected if it is $1 million or more. We asked that our client be awarded the maximum 30% given the hardships he endured and his ongoing and substantial assistance. A side-by-side comparison was given to the SEC showing how the information our client provided matched exactly with what the government's investigation found.
The effort was successful and our client received the maximum award allowed, or $1.8 million.
SEC whistleblower attorney and investor advocate Scott Silver represents whistleblowers who work at major wall street brokerage firms, investors and analysts who discover investment frauds through their own due diligence. Despite, or because of the success of the SEC whistleblower program, many on Wall Street want to shut the program down or make it harder for whistleblowers to prevail. Scott Silver advocates for the whistleblower by lobbying to strengthen the program and representing whistleblowers both at the SEC and frequently in employment actions in court or FINRA arbitration.
Retaining Experienced SEC Whistleblower Attorneys
Our SEC whistleblower attorneys can help you if you have information regarding securities or investment fraud, violations of federal securities laws, Ponzi schemes, false filings, market manipulation, or other misconduct. To be eligible, you must provide timely, credible, and original information or analysis.
Whistleblowers can help the public by alerting the authorities to conduct that harms Main Street investors, while also earning financial compensation for themselves.
Contact us through our online form or at (800) 975-4345 for a consultation. Our attorneys work on a contingency fee basis, which means it costs nothing to hire us and we have the incentive to get you the maximum award.