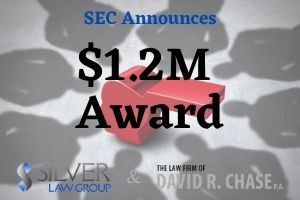 Recently the SEC awarded a bounty of $1.2 million to a whistleblower who offered staff credible information as well as time and additional resources that led to a successful enforcement action.
The whistleblower, who was not publicly identified, provided information as well as ongoing assistance and additional documentation. The individual also met with SEC staff and sat for interviews related to the case.
Acting Chief of the SEC's Office of the Whistleblower Emily Pasquinelli, said, "Today's whistleblower played a critical role in the SEC bringing an enforcement action. The whistleblower timely reported the securities law violations to the Commission and then played a key role in the successful resolution of the action." 
According to the order, the individual first reported the information to their supervisor, then waited 120 days before reporting it to the SEC. The CSR found that the reporting time frame was not subject to the rule of exclusion, and approved the award. The Claims Review Staff recommended the payment of $1.2 million to the individual, who acted on their own.
The SEC (along with other federal agencies like the Department of Justice) encourages individuals who witness wrongdoing to come forward and report what they know. In the course of investigations, whistleblowers can save staff a significant amount of time and energy with information that may have taken months or years to uncover.
A short video on submitting tips to the SEC is available on the SEC's own YouTube channel. Included are playlists on various topics, including investor information, investor advisory committee meetings, and even careers at the SEC.
Retaining Experienced SEC Whistleblower Attorneys
Whistleblowers help everyone by notifying authorities of conduct that harms the public, while also earning financial compensation for themselves. Hiring experienced SEC counsel will greatly increase your chances of the SEC initiating an investigation based on your information. If you wish to remain anonymous, you must be represented by an attorney, who will submit everything on your behalf.
Silver Law and the Law Firm of David R. Chase jointly have experienced SEC whistleblower lawyers, including a former SEC Enforcement attorney on the team, so you will always have guidance throughout the process. Our SEC whistleblower attorneys can help you if you have information regarding securities or investment fraud, violations of federal securities laws, false filings, market manipulation, or other misconduct. You must provide timely, credible, and original information or analysis in order to be eligible.
Contact us through our online form or at (800) 975-4345 for a consultation. Our attorneys work on a contingency fee basis. This means that it costs you nothing to hire us, and we collect our fees when you receive an SEC bounty. Because we get paid when you do, we have the incentive to help you collect the maximum award available.