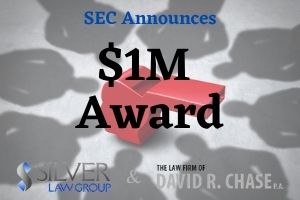 The SEC announced that it has awarded yet another whistleblower the sum of $1 million for information that led to a successful enforcement action. In addition to providing valuable information, the individual also cooperated and worked with SEC staff on an ongoing basis, which saved the SEC time and resources.
The whistleblower's information included the identification of "key players," and was also of interest to law enforcement. In the order, the SEC indicated that coming forward did result in "personal and professional hardships" for the individual, despite the confidentiality guaranteed under Dodd-Frank.
The SEC funds the Whistleblower program from monetary sanctions obtained from individual and companies that have been sued by the SEC, as well as from administrative fees. SEC bounties are never paid from moneys recovered on behalf of defrauded investors, which is returned to them when possible.
Protections For Whistleblowers
Whistleblowers who find themselves the target of retaliation do have the right to sue. The SEC and the CFTC (Commodity Futures Trading Commission) both offer protections for those who step up, including the ability to report securities and commodities violations anonymously.
Anyone who believes they are the subject of retaliation should consult with a SEC or CFTC whistleblower attorney prior to filing a lawsuit.
Retaining Experienced SEC Whistleblower Attorneys
Whistleblowers help everyone by notifying authorities of conduct that harms the public, while also potentially earning financial compensation. Hiring experienced SEC counsel can greatly increase your chances of the SEC initiating an investigation based on your information. If you wish to remain anonymous, you must be represented by an attorney, who will submit the whistleblower clam on your behalf.
Silver Law and the Law Firm of David R. Chase jointly have experienced SEC whistleblower lawyers, including a former SEC Enforcement attorney on the team, so you will always have guidance throughout the process. Our SEC whistleblower attorneys can help you if you have information regarding securities or investment fraud, violations of federal securities or commodities laws, false filings, market manipulation, or other misconduct. You must provide timely, credible, and original information or analysis in order to be eligible.
Contact us through our online form or at (800) 975-4345 for a consultation. Our attorneys work on a contingency fee basis. This means that it costs you nothing to hire us, and we collect our fees only if you are successful and receive an SEC bounty.