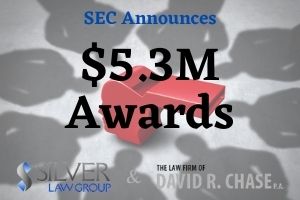 The SEC recently announced it has awarded several whistleblowers a total of $5.3 million who provided information and assistance for separate enforcement proceedings.
In the first case, the whistleblower received an SEC bounty of $4 million for "extraordinary assistance" and information that led the SEC to open an investigation that resulted in a successful enforcement action. The individual provided documentation with explanations, identified key witnesses, and gave hours of personal assistance by phone and other communication with SEC staff. While working to correct and resolve the misconduct, the individual also took personal and professional risks when reporting it internally.
The second combined SEC bounty of $1.3 million went to three individuals who provided information that resulted in a separate investigation and a cease-and-desist proceedings against the target company. (The proceedings are currently pending.)
The first individual provided the most information, provided considerable assistance to the SEC staff, and helped conserve time and resources. Because this individual played a vital role in the investigation, they received the larger of the three awards. The second and third whistleblowers share in a bounty totaling $270,000.
All three of these whistleblowers provided information about a possible securities violation that was occurring, or was about to occur. While the initial information started out as two separate investigations, they were both used to file a "covered action."
Retaining Experienced SEC Whistleblower Attorneys
Whistleblowers help everyone by notifying authorities of conduct that harms the public, while also earning financial compensation for themselves. Hiring experienced SEC counsel will greatly increase your chances of the SEC initiating an investigation based on your information. If you wish to remain anonymous, you must be represented by an attorney, who will submit everything on your behalf.
Silver Law and the Law Firm of David R. Chase jointly have experienced SEC whistleblower lawyers, including a former SEC Enforcement attorney on the team, so you will always have guidance throughout the process. Our SEC whistleblower attorneys can help you if you have information regarding securities or investment fraud, violations of federal securities laws, false filings, market manipulation, or other misconduct. You must provide timely, credible, and original information or analysis in order to be eligible.
Contact us through our online form or at (800) 975-4345 for a consultation. Our attorneys work on a contingency fee basis. This means that it costs you nothing to hire us, and we collect our fees only if you receive an SEC bounty. Because we get paid when you do, we have the incentive to help you collect the maximum award available.