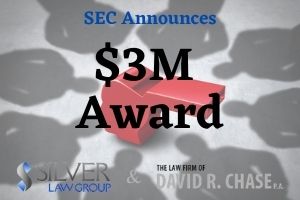 In a recent announcement, two whistleblowers are sharing an SEC bounty of $3 million after supplying information that led to a successful enforcement action.
The individuals worked separately and independently with SEC staff, providing information as well as continued assistance during the investigation. Both gave several interviews as well as relevant documents.
Emily Pasquinelli, Acting Chief of the SEC's Office of the Whistleblower, said in her statement, "The first whistleblower provided information early in the investigation and helped SEC staff develop its case and focus its resources, while the second whistleblower helped staff uncover misappropriated funds and fraudulent transfers." 
The first whistleblower provided the SEC with assistance early in their investigation, helping staff to "focus its resources and theories." In the case of the second whistleblower, the individual was instrumental in helping SEC staff to locate fraudulent transfers and misappropriated funds.
In the order, the SEC states that by making the award they "would recognize the independent significance of the assistance of Claimant 1's and Claimant 2's information and the high law enforcement interest involved in this matter."
Currently, the amount of bounties paid by the SEC stands at $932 million paid to 172 individuals who freely provided tips and information to make these enforcement actions possible. Whistleblowers are not named, and all identifying information is redacted from the published order in accordance with the Dodd-Frank Act.
Monies paid to whistleblowers are taken from a fund established by Congress financed by the sanctions taken from wrongdoers. No investor money is ever used for an SEC bounty paid to a whistleblower.
Occasionally, the SEC may lower the amount that a whistleblower receives based on these factors:
Unreasonable delay, which may have resulted in harm to investors

Excluding mitigating factors such as personal or family illness, working with an internal reporting system, or finding an attorney to remain anonymous

Whether the whistleblower was also involved in the wrongdoing themselves
Interfering with a compliance and reporting system
The entire document that details whistleblower award determinations is available on the SEC's website.
Retaining Experienced SEC Whistleblower Attorneys
Our SEC whistleblower attorneys can help you if you have information regarding securities or investment fraud, violations of federal securities laws, false filings, market manipulation, or other misconduct. To be eligible, you must provide timely, credible, and original information or analysis.
Whistleblowers help the public by notifying authorities of conduct that harms the public, while also earning financial compensation for themselves.
Contact us through our online form or at (800) 975-4345 for a consultation. Our attorneys work on a contingency fee basis, which means it costs nothing to hire us and we have the incentive to get you the maximum award.