In a recent press release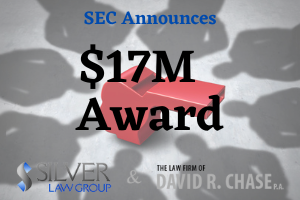 , the SEC announced that it has awarded an individual a bounty of $17 million for their assistance as a whistleblower.
The individual provided information that led to the SEC opening an investigation. Additionally, the individual gave continued assistance to SEC staff, speaking with them on multiple occasions.
Information provided by this individual led to both a primary covered action as well as a secondary related action. The related action had considerable interest from law enforcement. Both actions were successful and led to charges, based on the information regarding conduct provided by the individual whistleblower. This led to two successful enforcement actions—a covered action and a related action—and the award totaling $17 million.
"Today's award underscores the SEC's commitment to rewarding meritorious whistleblowers who provide valuable information and exemplary cooperation that advance the agency's enforcement efforts," said Creola Kelly, Chief of the SEC's Office of the Whistleblower.
The SEC has now awarded more than $1.3 billion to 278 whistleblowers since the introduction of the program in 2012. The identities of the whistleblowers are kept confidential under the Dodd-Frank Act, and no identifying information is released.
What Is A Related Action?
If the information someone provides the SEC leads to a secondary investigation and successful enforcement action through a different agency, it's possible that the whistleblower could qualify for an additional award through that different agency.
The SEC defines a related action as one that's a judicial or administrative action brought by:
the Attorney General of the United States
an appropriate regulatory authority
a self-regulatory organization, such as the Commodities Futures Trading Commission (CFTC)
a state attorney general in a criminal case, based on the original information provided by the whistleblower that ultimately leads to monetary sanctions by the SEC over $1 million
The SEC would need to determine that the same set of facts were used in both cases and led to both successful enforcement actions before issuing any awards.
Anyone who is considering contacting the SEC to offer original information should at least discuss their case with a whistleblower attorney prior to submitting any information to the Office of the Whistleblower.
Retaining Experienced SEC Whistleblower Attorneys
Whistleblowers help everyone by notifying authorities of conduct that harms the public, while also earning financial compensation for themselves. Hiring experienced SEC counsel will greatly increase your chances of the SEC initiating an investigation based on your information. If you wish to remain anonymous, you must be represented by an attorney, who will submit everything on your behalf.
Silver Law and the Law Firm of David R. Chase jointly have experienced SEC whistleblower lawyers, including a former SEC Enforcement attorney on the team, so you will always have guidance throughout the process. Our SEC whistleblower attorneys can help you if you have information regarding securities or investment fraud, violations of federal securities laws, false filings, market manipulation, or other misconduct. You must provide timely, credible, and original information or analysis to be eligible.
Contact us through our online form or at (800) 975-4345 for a consultation. Our attorneys work on a contingency fee basis. This means that it costs you nothing to hire us, and we collect our fees when you receive an SEC bounty. Because we get paid when you do, we have the incentive to help you collect the maximum award available.