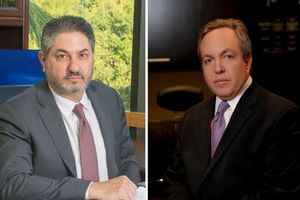 Scott Silver and David Chase were selected as top-rated securities litigation attorneys by Super Lawyers for 2022. Scott received the same award in 2021, and was previously selected for Super Lawyers' Rising Stars list. David Chase was selected to Super Lawyers for years 2006-2007, 2009-2019, and 2021-2022.
Scott and David can represent you as an SEC whistleblower if you have timely, credible, and original information or analysis information regarding stock market manipulations, Ponzi schemes, theft of investor funds, false public filings and press releases, accounting fraud, payment of bribes to secure foreign business, and any other misconduct involving investments and the financial markets.
David R. Chase
David R. Chase is the principal of The Law Firm of David R. Chase P.A., a law firm that exclusively handles securities cases. In addition to representing whistleblowers, David represents defrauded stock market investors, and provides SEC and FINRA securities regulatory defense.
A University of Miami School of Law graduate, David began his career at Greenberg Traurig in Miami, where he represented financial and securities firms in FINRA and SEC investigations.
David then worked as Senior Counsel in the Enforcement Division of the U.S. Securities and Exchange Commission (SEC). He also served as a Special Assistant Usited States Attorney in the U.S. Attorney's Office-Economic Crimes Division in the Southern District of Florida.
As a government prosecutor handling securities cases, David worked on cases involving market manipulation, insider trading, bond fraud, Ponzi schemes, and broker sales practice violations.
David Chase also as served as receiver in SEC and FTC cases, where he worked to protect the rights of defrauded consumers and investors. He is currently an adjunct law professor at the University of Miami School of Law, and teaches a class on SEC enforcement litigation.
David's experience working for the SEC has afforded him an invaluable understanding of how to present whistleblower cases so they have the best chance of being investigated by the commission and paying a bounty to the whistleblower. David Chase's firm has a strategic alliance with Silver Law Group that allows for the leveraging of resources and knowledge in SEC and CFTC whistleblower cases.
Scott Silver
Scott Silver is the managing partner of Silver Law Group, a firm that represents whistleblowers, as well as investors in securities arbitration, investment fraud, and stockbroker misconduct cases, as well as in plaintiff-side class action litigation and represents victims of Ponzi schemes.
Scott has served as counsel to receivers to help recover investor losses from Ponzi schemes.
Scott Silver graduated from the University of Miami, School of Law in 1996, and has worked in the securities industry ever since. He is admitted to the bar associations of Florida and New York, as well as several federal courts, including the U.S. District Courts for the Southern District of Florida, the U.S. District Court for the Eastern District of New York, and the U.S. District Court for the Southern District of New York.
Scott is a member of the Multi-Million Dollar Advocates Club, and received a Martindale-Hubbell Preeminent AV rating, the highest possible given for legal ability and ethical standards. Since 2012, Scott has served as the co-chair of the Securities and Financial Fraud Group of the American Association of Justice (AAJ).
Scott frequently lectures on topics such as recovering Ponzi scheme losses from third party professionals, is a member of Entrepreneurs' Organization (EO), and is also a member of the Public Investors Arbitration Bar Association (PIABA).
Retaining Experienced SEC Whistleblower Lawyers
Whistleblowers help the public by notifying authorities of harmful conduct, while also earning financial compensation for themselves.
Having experienced SEC counsel represent you may increase the chances of having the SEC initiate an investigation based on your tip. If you wish to remain anonymous, you need to have an attorney submit everything on your behalf.
Contact us through our online form or at (800) 975-4345 for a no-cost consultation. Our attorneys work on a contingency fee basis, which means it costs you nothing to hire us, and we collect our fees only if and when you receive an SEC bounty. Because we get paid when you do, we have the incentive to help you collect the maximum award available.