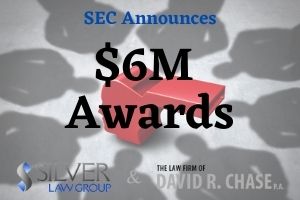 Whistleblowers have made a busy summer for the SEC this year, and there is no sign of any slowdown. Two cases saw bounties of $6 million, as described in a recent press release.
In the first order, whistleblower received a bounty of over $3.5 million after reporting new and beneficial information to the SEC. This information helped SEC to expand an already-existing investigation into a new geographical area. Noted in the SEC order is that this whistleblower is also a foreign national, and traveled for in-person meetings with staff multiple times regarding this case. The individual continued to provide assistance and information that ultimately led to charges related to the enforcement action, and ultimately, an award.
The second order saw a whistleblower receive more than $2.4 million after notifying the SEC about "previously unknown conduct." This information led to the SEC opening its investigation. The individual notified their own employer internally prior to notifying the SEC. They continued to meet with SEC staff, provided additional documentation, and identified possible witnesses for the enforcement action.
As always, the identities of both individuals is kept confidential under the Dodd-Frank Act. The SEC does not release any information that could lead to the discovery of the identity of any whistleblower.
Retaining Experienced SEC Whistleblower Attorneys
Whistleblowers help everyone by notifying authorities of conduct that harms the public, while also earning financial compensation for themselves. Hiring experienced SEC counsel will greatly increase your chances of the SEC initiating an investigation based on your information. If you wish to remain anonymous, you must be represented by an attorney, who will submit everything on your behalf.
Silver Law and the Law Firm of David R. Chase jointly have experienced SEC whistleblower lawyers, including a former SEC Enforcement attorney on the team, so you will always have guidance throughout the process. Our SEC whistleblower attorneys can help you if you have information regarding securities or investment fraud, violations of federal securities laws, false filings, market manipulation, or other misconduct. You must provide timely, credible, and original information or analysis in order to be eligible.
Contact us through our online form or at (800) 975-4345 for a consultation. Our attorneys work on a contingency fee basis. This means that it costs you nothing to hire us, and we collect our fees when you receive an SEC bounty. Because we get paid when you do, we have the incentive to help you collect the maximum award available.