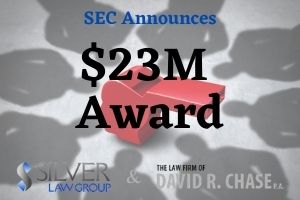 The Securities and Exchange Commission (SEC) announced the awarding of two separate bounties to two whistleblowers, $13 million and $10 million, respectively. Both individuals provided significant assistance and information that led to several successful enforcement actions for the SEC as well as related actions for another federal agency.
This means that the information provided benefitted both the SEC and the other agency, resulting in an SEC bounty for both. The SEC order stated that both whistleblowers submitted information that led to the discovery of a "complex and fraudulent scheme involving multiple individuals and tens of millions of dollars in ill-gotten gains."
The SEC has a strict 90-day guideline for submissions. In this case, the second whistleblower was 18 days late, which would normally disqualify one for an SEC award. Under the circumstances, timely reporting would have resulted in a significant hardship to that individual. Due to the "significant" contributions to the investigation, the SEC exercised their discretionary authority to suspend the 90-day deadline and award the individual an SEC bounty for their assistance.
These two cases bring the total of SEC bounties paid to whistleblowers to $928 million collected by 166 individuals.
You can read more about the SEC's Whistleblower process in determining awards in this report on the SEC's website.
Retaining Experienced SEC Whistleblower Attorneys
Whistleblowers help everyone by notifying authorities of conduct that harms the public, while also earning financial compensation for themselves. Hiring experienced SEC counsel will greatly increase your chances of the SEC initiating an investigation based on your information. If you wish to remain anonymous, you must be represented by an attorney, who will submit everything on your behalf.
Silver Law and the Law Firm of David R. Chase jointly have experienced SEC whistleblower lawyers, including a former SEC Enforcement attorney on the team, so you will always have guidance throughout the process. Our SEC whistleblower attorneys can help you if you have information regarding securities or investment fraud, violations of federal securities laws, false filings, market manipulation, or other misconduct. You must provide timely, credible, and original information or analysis in order to be eligible.
Contact us through our online form or at (800) 975-4345 for a consultation. Our attorneys work on a contingency fee basis. This means that it costs you nothing to hire us, and we collect our fees when you receive an SEC bounty. Because we get paid when you do, our incentive is to help you collect the maximum award available.