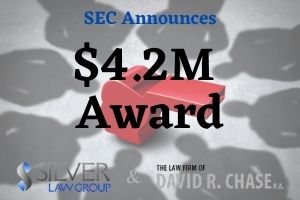 The Securities and Exchange Commission (SEC) announced that it awarded a whistleblower $4.2 million for critical and original information that led to a successful enforcement action. The individual tipped the SEC regarding specific possible violations of the federal securities laws that, in turn, caused an investigation to be opened. Once the investigation was commenced, the SEC whistleblower provided material assistance to the SEC, including documentation, identifying "key players" in the fraudulent scheme and meeting with SEC staff.
This successful SEC enforcement action brings the number of whistleblowers who received bounties to 164 since the program's inception. Thus far, the SEC has awarded a total of $905 million to those whistleblowers who provided the SEC with tips, documents and information. These SEC enforcement actions ultimately lead to the recovery of millions of dollars for defrauded investors, and further strengthened the SEC's deterrent effect in the securities markets.
Financial Recovery
A whistleblower may receive an award (also known as a bounty) from the SEC ranging from 10% to 30% of the financial sanctions recovered from the wrongdoers assuming the total collected exceeds $1M. This translates into $100,000 to $300,000 for a $1M recovered by the SEC. Notably, the SEC bounties are not taken from the money recovered for investors. In addition, after the $1M threshold is reached, a whistleblower may also be entitled to a percentage of recovered amounts arising from related cases brought by other governmental agencies.
The SEC posts notices of these covered actions for those associated with the case, with deadlines, so that they can file their claim for a financial award from the SEC.
Hiring An Experienced SEC Whistleblower Attorneys Is Critical to Success
Our experienced SEC whistleblower attorneys, who include a former SEC Enforcement Attorney, can substantially assist you in attempting to maximize the chance that your whistleblower tip will be investigated by the SEC.
If you have information regarding securities or investment fraud violations, including market manipulation, misappropriation of funds, Ponzi Schemes or other fraudulent misconduct, call us today.
Contact us through our online form or at (800) 975-4345 for a free and confidential consultation. Our attorneys work on a contingency fee basis, which means it costs nothing to hire us, and we only get paid if you successfully obtain a whistleblower award from the SEC.