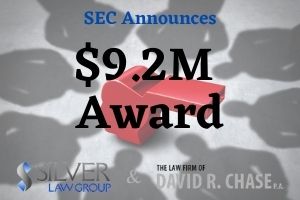 The Securities & Exchange Commission (SEC) announced its latest award of $9.2 million to a helpful whistleblower who offered assistance at their own expense.
This individual traveled to be personally interviewed by the US Department of Justice, and paid for their travel out-of-pocket. As a result, their information led to successful actions led to actions by the DOJ, including a non-prosecution agreement (NPA) or deferred prosecution agreement (DPA).
This whistleblower offered a significant amount of information related to a continuing fraud to the SEC. The information led to a substantial amount of money that could be returned to the defrauded investors. The SEC then provided the information to the DOJ for their investigation and actions.
Additionally, this same whistleblower received a previous award from the SEC resulting from the same information that led to a successful SEC action. The previous SEC award is a precursor to today's related action whistleblower award.
This whistleblower award is the first since the SEC implemented amended rules on December 7, 2020. These rules allow a DOJ NPA or DPA executed after July 21, 2010 to consider an administrative action as a "related action," allowing the whistleblower to be eligible for an SEC award as well as one from the DOJ.
Jane Norberg, Chief of the SEC's Office of the Whistleblower, stated: "This award reflects the Commission's determination that a whistleblower's eligibility for an award should not depend on the procedural vehicle a federal agency selects to resolve an enforcement matter. Deserving whistleblowers, like today's awardee, will be rewarded regardless of the path used to successfully conclude the matter."
Whistleblowers can become eligible for awards when they provide the SEC with credible, timely and original information that leads to a successful enforcement action. Since 2012, the SEC has awarded more than $750 million to 136 whistleblowers who have assisted the agency in actions. Award money comes from a separate investor fund established by Congress, funded by monetary sanctions paid by SEC law violators. A whistleblower may be eligible for an award when the action nets more than $1M. The award can range from 10% to 30% of the fines and sanctions collected. None of the funds used for awards are from defrauded investors, only from the collected fines and sanctions.
The Dodd-Frank act also requires the SEC to keep all information about whistleblowers confidential and protect their identity.
Retaining Experienced SEC Whistleblower Attorneys
Our SEC whistleblower attorneys can help you if you have information regarding securities or investment fraud, violations of federal securities laws, false filings, market manipulation, or other misconduct. To be eligible, you must provide timely, credible, and original information or analysis.
Whistleblowers help the public by notifying authorities of conduct that harms the public, while also earning financial compensation for themselves.
Contact us through our online form or at (800) 975-4345 for a consultation. Our attorneys work on a contingency fee basis, which means it costs nothing to hire us and we have the incentive to get you the maximum award.