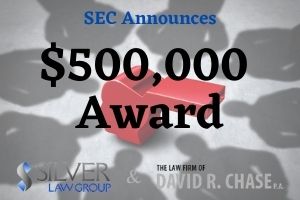 A whistleblower who filed an internal report prior submitting a tip to the SEC has been awarded $500,000 by the agency. The information provided by the whistleblower gave the SEC and another agency what they needed to file actions quickly in order to stop a continuing fraudulent scheme.
The individual first submitted an internal report that led to an internal investigation. The company provided this information to an external agency, which notified the SEC.
Additionally, the individual contacted the SEC separately within 120 days of filing the internal report. The SEC's "safe harbor" provision means that if the report is made within the 120-day timeframe, the agency treats it as if the report was made the same day.
Exchange Act Rule 21F-4(b)(7) provides in relevant part that:
"If you provide information to … an entity's internal whistleblower, legal, or compliance procedures for reporting allegations of possible violations of law, and you, within 120 days, submit the same information to the Commission pursuant to §240.21F-9 of this chapter, as you must do in order for you to be eligible to be considered for an award, then, for purposes of evaluating your claim to an award …, the Commission will consider that you provided [the] information as of the date of your original disclosure, report or submission to one of these other authorities or persons."
The SEC has awarded $200M to whistleblowers in the first half of the 2021 Fiscal Year. The agency has given these awards to 40 individuals.
Awards are never taken from investor funds, but from a Congressionally created investor protection fund. The awards come out of monies collected from fines and other monetary sanctions paid to the SEC by wrongdoers.
A whistleblower can become eligible for an award when they notify the SEC and offer solid information that ends in a successful enforcement action. These awards range from 10% to 30% of sanctions exceeding $1M.
You can learn more about the SEC's Whistleblower program at their website.
Retaining Experienced SEC Whistleblower Attorneys
Our SEC whistleblower attorneys can help you if you have information regarding securities or investment fraud, violations of federal securities laws, false filings, market manipulation, or other misconduct. To be eligible, you must provide timely, credible, and original information or analysis.
Whistleblowers help the public by notifying authorities of conduct that harms the public, while also earning financial compensation for themselves.
Contact us through our online form or at (800) 975-4345 for a consultation. Our attorneys work on a contingency fee basis, which means it costs nothing to hire us and we have the incentive to get you the maximum award.