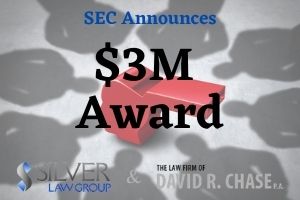 The SEC has awarded two individuals more than $3M related to two agency separate enforcement actions.
In the first, the agency awarded $3.2M to one individual who alerted the SEC to certain violations. The individual also gave the SEC crucial subject matter expertise, which conserved agency resources, as well as which identifying important issues on which to focus.
The SEC awarded second individual $100,000 for "significant information and ongoing assistance" in the detection of an ongoing investor fraud, then put a stop to it.
A whistleblower is an individual that reports a person and/or organization engaged in illegal and illicit activity. It can be anyone working in an organization, or someone affiliated, such as a customer or vendor. Anyone with evidence of fraud or other wrongdoing can be a whistleblower. The SEC primarily handles cases related to securities and other financial fraud.
Since beginning its Whistleblower program in 2012, the SEC has awarded more than $816M to 153 individuals who have provided critical information to the agency. The awards are funded by the SEC's investor protection fund created by Congress and funded by financial sanctions from those who violate SEC laws. None of the funds are from the investors themselves.
An individual can become eligible for a whistleblower award when they voluntarily provide SEC staff with "original, timely, and credible information" leading to a successful enforcement action. When the action results in the collection of $1M or more in sanctions, whistleblowers may receive from 10% to 30% of the funds collected.
Whistleblower confidentiality is set out in the Dodd-Frank Act. The SEC does not release any information that could disclose the identity of a whistleblower.
You can learn more about the Office of the Whistleblower at the SEC's website, including information on submitting tips.
Retaining Experienced SEC Whistleblower Attorneys
Our SEC whistleblower attorneys can help you if you have information regarding securities or investment fraud, violations of federal securities laws, false filings, market manipulation, or other misconduct. To be eligible, you must provide timely, credible, and original information or analysis.
Whistleblowers help the public by notifying authorities of conduct that harms the public, while also earning financial compensation for themselves.
Contact us through our online form or at (800) 975-4345 for a consultation. Our attorneys work on a contingency fee basis, which means it costs nothing to hire us and we have the incentive to get you the maximum award.