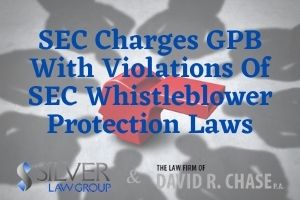 The Securities and Exchange Commission (SEC) alleges that GPB Capital Holdings violated whistleblower protection laws by retaliating against a whistleblower and preventing people from going to the SEC with information.
The government accuses the alternative asset management firm of being a "Ponzi-like scheme". Three people have been criminally charged, including the CEO of GPB Capital, David Gentile, and Jeffrey Schneider, the owner of GPB's placement agent Ascendant Capital.
GPB is alleged to have lied about the source of 8% APR distribution payments made to investors. The SEC's complaint, filed in U.S. District Court Eastern District of New York, alleges that the defendants and Ascendant told investors that their payments were coming solely from GPB's profits, but that some of the money came from other investors, which is a Ponzi scheme.
SEC Whistleblower Protections
The SEC alleges that GPB Capital violated whistleblower provisions of the securities laws by retaliating against a whistleblower and putting language in termination and separation agreements that prevented people from going to the SEC with information.
"Whistleblower protections are a cornerstone of the SEC's whistleblower program. The charges filed today reinforce the Commission's commitment to protecting whistleblowers from retaliation and attempts to stifle the free flow of information to the Commission about possible securities law violations," said Jane Norberg, chief of the SEC's Office of the Whistleblower, in an SEC press release.
Securities Fraud Attorneys For GPB Investors
The SEC action demonstrates the gross misconduct that allegedly occurred at GPB, but it is not a surprise. It is the latest of years of bad news and uncertainty for investors. Since its founding in 2013, GPB has raised over $1.7 billion by using dozens of broker-dealers to sell private placements to retail investors across the country. The firm used the money it raised to buy companies such as auto dealerships and a waste management business.
The 8% annual distribution payment GPB paid drew investors in, but those payments stopped in 2018. In 2019, GPB reported that the value of its funds were down significantly. Because of GPB's illiquidity, investors have had no choice but to stay in and risk further loss of their principal. Also in 2019, GPB's chief compliance officer was indicted. The company is the subject of multiple lawsuits and investigations.
As much as 12% of the money an investor put into GPB was paid to brokers and the broker-dealers they worked for through commissions and fees. Most brokerage firms refused to sell GPB. Firms that did, motivated by high commissions and fees, allegedly pushed the unsuitable GPB private placements onto clients, failing to perform adequate due diligence, ignoring red flags, and in some cases overconcentrating investor's portfolios in GPB.
It is unknown how much, if any, of investors' principal will be returned to the victims, which include thousands of retirees and small investors.
GPB Securities Arbitration Lawsuits
In 2019, Silver Law Group reportedly filed the first GPB-related FINRA arbitration claim in the country. Since then, our attorneys have recovered significant damages for investors across the country.
Silver Law Group continues to represent many investors in claims against the brokerage firms that sold GPB alleging, amongst other claims, that the brokerage firms failed to do reasonable due diligence.
Retaining Experienced SEC Whistleblower Attorneys
Our SEC whistleblower attorneys can help if you have information regarding securities or investment fraud and federal securities laws. Working with experienced attorneys can help you avoid personal and professional retaliation and obtain the maximum financial award. To be eligible for a whistleblower award, you must provide timely, credible, and original information or analysis.
If you believe that GPB was sold to you improperly or otherwise want to learn about your legal rights, we are happy to discuss your legal options with you.  Our securities arbitration attorneys work on a contingency fee basis, meaning that you will only owe attorney's fees if we help recover your money.
Contact us through our online form or at (800) 975-4345 for a consultation. Our attorneys work on a contingency fee basis, which means there's no cost to retain us and we're incentivized to get you the maximum award.