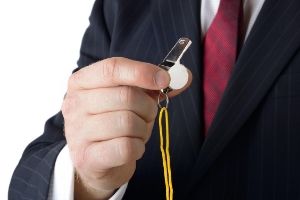 A senior financial analyst at The Walt Disney Company internally reported billions of dollars of alleged financial irregularities and claims that she was harassed and retaliated against for speaking out. In 2017 she filed an SEC whistleblower complaint. Now she is suing Disney.
Sandra Kuba, the plaintiff in a lawsuit against Disney, is a certified Public Accountant (CPA) who was hired as a financial analyst for Disney Financial Services in 1999. Her complaint states that "Throughout her employment, Plaintiff worked incredibly hard and consistently received positive performance reviews."
SEC Whistleblower Alleges Disney Overstated Revenue
In 2013, Disney promoted Kuba to the position of senior financial analyst. Kuba claims that she became aware that employees in the parks and resorts segment were systematically overstating revenue "by billions of dollars by exploiting weaknesses in the company's accounting software."
One of the ways Kuba alleges Disney employees did this was by "recording fictitious revenue for complimentary golf rounds or for free guest promotions."
She also alleged that revenue for $500 gift cards was recorded at face value even though guests only paid a discounted rate of $395 for them.
Kuba alleges that she reported this wrongdoing to her supervisors but was ignored. In 2017, she emailed her allegations to the president of Walt Disney World Resort, George Kalogridis.
Retaliation Against Whistleblowers
Kuba claims that she was threatened not to report her concerns elsewhere or Disney would consider it to be retaliation, and that her internal reporting led to "harassment, hostility and retaliation" from Disney.
While on medical leave, Kuba filed an SEC whistleblower complaint. She claims she was fired upon returning to work. Her complaint alleges her termination was because of her complaints and her whistleblower filing.
Kuba says that she has endured financial hardships as a result of her reporting and her husband died by suicide. A Go Fund Me was set up to support her. Disney has stated that her claim is meritless.
Law.Com Interviews Scott Silver Regarding SEC Whistleblower Laws
Scott Silver, a publisher of secwhistleblowerlawyers.net, was interviewed for a Law.com/Daily Business Review article about Kuba's lawsuit. He told the publication that whistleblowers are allowed to file their claims anonymously, and Kuba may have a hard time finding employment due to publicly filing this lawsuit.
Scott is quoted in the article "Unfortunately for whistleblowers, what should be recognized as people stepping up for the right thing, frankly results in being unhirable by future employers…Many whistleblowers chose, even if they are no longer staying at the company when they reported misconduct, to remain anonymous in hopes of future employment. Now when you google her name, this will always be the top story that will come up."
James Sallah, a Boca Raton Attorney who worked with Scott Silver representing a whistleblower who received a $1.8 million award, is also interviewed in the article. Sallah said whistleblowers should report their concerns to higher levels if they are not initially listened to. "Go to a board member, go to the audit committee, and if no one will listen, you can always report it to the regulators, like the SEC, if it is a reported company that files with the SEC," Sallah said.
Retaining Experienced SEC Whistleblower Attorneys
Experienced whistleblower attorneys can help you avoid personal and professional retaliation and obtain the maximum financial award. To be eligible for a whistleblower award, you must provide timely, credible, and original information or analysis.
fraud handling securities arbitration claims and Ponzi scheme class actions in federal court.
Contact us through our online form or at (800) 975-4345 for a consultation. Our attorneys work on a contingency fee basis, which means there's no cost to retain us and we're incentivized to get you the maximum award.