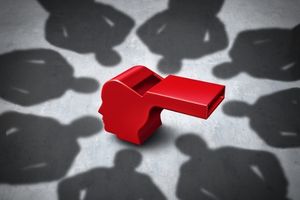 Can a company prohibit former employees from speaking to federal regulators, such as the SEC, and function as a whistleblower? They can certainly try, but it is still illegal.
Monolith Resources, LLC, based in Nebraska, included language in their employment separation agreements prohibiting departing employees from recovering money through participation in investigations, enforcement actions, or filing claims with the government. This includes participating in the SEC's Whistleblower program.
On Friday, September 8, 2023, the privately held tech and energy company agreed to pay a $225,000 penalty for violating the whistleblower protection rules and including this language in their employee separation agreements. According to the SEC, the company included this language for approximately three years.
The SEC alleges that from February 2020 through early March of 2023, Monolith's agreements prohibited 22 former employees from interacting with government agencies or recovering any money from participation. Monolith neither admitted nor denied the allegations, according to the SEC's findings.
The separation agreements stated that former employees were not prohibited from filing charges or claims with either state, federal, or local agencies. However, the agreement did include a clause that prohibited them from recovering money damages or any other relief that they might be entitled to from that governmental agency.
By including this clause prohibiting former employees from receiving financial compensation, the SEC stated that the agreements violate the SEC rule that comes from the Dodd-Frank Act. The clause inhibits Monolith's former employees from communicating with and participating with the SEC and other agencies about potential violations of securities laws and receiving awards and bounties.
In a statement, Jason J. Bert, the SEC's regional director for Denver, stated that both private and public companies, "must understand that they cannot take actions or use separation agreements that in any way disincentivize employees from communicating with SEC staff about potential violations of the federal securities laws. Any attempt to stifle or discourage this type of communication undermines our regulatory oversight and will be dealt with appropriately."
Monolith's legal counsel has not responded to a request for comment.
The SEC first contacted Monolith back in April, and the company voluntarily updated its separation agreement to inform employees that they were not prohibited from providing information to government agencies nor from collecting any financial incentives or awards upon their termination from the company.
Monolith's amended separation agreement now states, "Nothing in this agreement shall bar or impede in any way your ability to seek or receive any monetary award or bounty from any governmental agency or regulatory or law enforcement authority in connection with protected whistleblower activity," according to the SEC's order.
In the order, the SEC also mentioned that it was unaware of any instances of a former employee who signed Monolith's previous separation agreement that did not directly communicate with SEC staff about the possibility of securities law violations, nor occasions where Monolith attempted to enforce the prohibition in the agreement.
Monolith agreed to revise its separation agreements and notify the former employees who signed the prior version that their ability to obtain financial awards for whistleblower activities is no longer prohibited by the agreement. The SEC considered this and other remedial actions by the company in the settlement agreement.
Monolith has roughly 236 employees and makes hydrogen and carbon-related products, according to the SEC.
This is not the first time the SEC has dealt with a whistleblower prohibition in a company's separation agreement. Video game creator Activision Blizzard was previously accused of requiring employees to sign agreements that discouraged them from speaking to regulators once they left the company. The SEC settled that complaint last February for $35 million, which included additional allegations.
Retaining Experienced SEC Whistleblower Attorneys
SEC whistleblowers help everyone by notifying the SEC of conduct that harms the investing public, while also earning financial compensation for themselves. Hiring experienced SEC counsel may greatly increase the probability that the SEC will initiate an investigation based on your information. If you wish to remain anonymous, you must be represented by an attorney, who will submit everything on your behalf.
Silver Law Group and the Law Firm of David R. Chase jointly have experienced SEC whistleblower lawyers, including a former SEC Enforcement attorney on the team, so you will always have guidance throughout the process. Our SEC whistleblower attorneys can help you if you have information regarding securities or investment fraud, violations of federal securities laws, false filings, market manipulation, or other misconduct. You must provide timely, credible, and original information or analysis to be eligible.
Contact us through our online form or at (800) 975-4345 for a consultation. Our attorneys work on a contingency fee basis. This means that it costs you nothing to hire us, and we collect our fees only if you receive an SEC bounty. Because we get paid when you do, we have the incentive to help you collect the maximum award available.