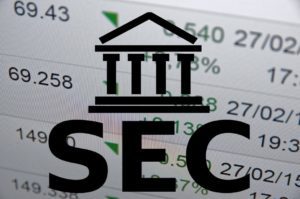 The SEC's recent press release about streaming company Gaia's activities focuses on both securities violations and whistleblower retaliation. The company terminated one employee for reporting lower subscriber rates both internally and to the SEC.
When Gaia began laying off employees later, it also required 23 other employees to sign severance agreements that stated reporting anything to the SEC or other agency would mean forgoing severance pay and other benefits. This included any whistleblower award that they might have been entitled to receive later. Gaia had no legal right to include this requirement to forfeit anything for reporting information to the SEC, especially after employment termination.
Dodd-Frank
As we've mentioned before, reports to the SEC from whistleblowers are not only confidential, but non-reportable. Under the Dodd-Frank Wall Street Reform and Consumer Protection Act, whistleblower identities are confidential and not disclosed in the press releases announcing awards.
The Dodd-Frank Act added Section 21F, "Securities Whistleblower Incentives and Protection." to the Securities Exchange Act of 1934. The SEC adopted Rule 21F-173 under the Exchange Act which specifically prohibits companies (or anyone) from preventing someone from contacting SEC staff about potential violations. This includes "enforcing, or threatening to enforce, a confidentiality agreement . . . with respect to such communications." This rule became effective August 12, 2011. Unfortunately, it hasn't stopped companies from continuing this practice and warn employees away from becoming a whistleblower.
Reporting Is Confidential And Non-Reportable
Like Gaia, other companies have included similar clauses in their severance agreements to try to prevent anyone from becoming a whistleblower. Companies include these clauses because they understand that the loss of severance benefits is a strong motivator—especially if the terminated employee doesn't know any better.
The SEC has repeatedly identified instances where companies included language that informed employees that they would lose benefits if they contacted the SEC to discuss violations.
But even if an employee signs such an agreement, the clause is invalid. All reporting to the SEC is confidential and non-reportable. If the whistleblower is represented by an attorney, they can report information anonymously to the SEC.
Should that information lead to an investigation, the whistleblower's identity is still confidential and protected in accordance with Dodd-Frank. There should be no way for a company to find out that a former employee was, in fact, a whistleblower, even after requesting and receiving any type of financial bounty.
Remedial Actions
In a 2016 "risk alert," the SEC addressed companies' attempts to silence employees with exclusive knowledge of violations. This alert was focused primarily on broker-dealers. However, other companies are also subject to the rules and prohibited from preventing any employee from confidentially reporting violations of securities or other laws. Gaia's severance agreements also fall under this document.
When the SEC identifies violations like these in an enforcement action, companies are required to take remedial action such as:
Notifying employees that the documentation does not prohibit them from voluntarily making a report to the SEC or other agency regarding law violations
They would not be prohibited from accepting a whistleblower award
Notifying employees, including those who previously signed these types of agreements, of their right to contact the SEC or other agencies
Finding and notifying former employees who signed these types of agreements that they are, in fact, allowed to contact the SEC or other agencies, and can accept any whistleblower award they might be eligible to receive
In addition to employee and severance agreements, compliance manuals and codes of ethics should also be revised as necessary.
Retaining Experienced SEC Whistleblower Attorneys
Whistleblowers help everyone by notifying the SEC of conduct that harms the investing public, while also earning financial compensation for themselves. Hiring experienced SEC counsel may greatly increase the probability that the SEC will initiate an investigation based on your information. If you wish to remain anonymous, you must be represented by an attorney, who will submit everything on your behalf.
Silver Law Group and the Law Firm of David R. Chase jointly have experienced SEC whistleblower lawyers, including a former SEC Enforcement attorney on the team, so you will always have guidance throughout the process. Our SEC whistleblower attorneys can help you if you have information regarding securities or investment fraud, violations of federal securities laws, false filings, market manipulation, or other misconduct. You must provide timely, credible, and original information or analysis to be eligible.
Contact us through our online form or at (800) 975-4345 for a consultation. Our attorneys work on a contingency fee basis. This means that it costs you nothing to hire us, and we collect our fees only if you receive an SEC bounty. Because we get paid when you do, we have the incentive to help you collect the maximum award available.