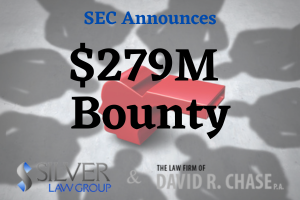 The SEC announced an award of $279 million to an individual for substantial assistance in an enforcement action. It's the largest award in the history of the SEC's Whistleblower program. The previous record for an award was made in October of 2020, when a whistleblower received $114 million.
While the whistleblower did not submit the original information that initiated the SEC investigation, the information provided, and assistance afforded, by the whistleblower "expanded the scope of misconduct charged," according to Creola Kelly, Chief of the SEC's Office of the Whistleblower. Their continued involvement and assistance included numerous interviews and many written submissions that greatly assisted the SEC's investigation.
Two additional whistleblowers were deemed ineligible. Their claims were denied after the SEC determined that neither one submitted information that led to or assisted in any successful enforcement of a covered action.
To date, the SEC has awarded over $1 billion to whistleblowers, which came from over $6 billion in financial remediation from wrongdoers. Additionally, awards have been made to individuals in foreign countries, including the United Kingdom (523), Canada (446), China (278), Australia (243), and India (213).
What It Takes To Be A Successful Whistleblower
Securities and other financial frauds come in many types, as do whistleblowers. They can be someone who was the target of the fraud. But oftentimes the ones who understand the fraud are those who are working for a company that is either engaging in or involved in a fraudulent activity. It's their job, and want to do the right thing, but may not know who to turn to for help.
Fortunately, the SEC understands this conundrum and established a process for individuals to submit information through an online portal or by mail. The information must be clearly described with proof and information about the laws that were violated.
While you are not required to be represented by legal counsel, an experienced and knowledgeable SEC whistleblower lawyer may substantially increase the chances that your tip is investigated by the SEC. If you want to remain anonymous, an attorney is required. Legal counsel can ensure that your information is presented correctly and your identity is protected.
Retaining Experienced SEC Whistleblower Attorneys
Whistleblowers help everyone by notifying the SEC of conduct that harms the investing public, while also earning financial compensation for themselves. Hiring experienced SEC counsel may greatly increase the probability that the SEC initiates an investigation based on your information. If you wish to remain anonymous, you must be represented by an attorney, who will submit everything on your behalf.
Silver Law and the Law Firm of David R. Chase jointly have experienced SEC whistleblower lawyers, including a former SEC Enforcement attorney on the team, so you will always have guidance throughout the process. Our SEC whistleblower attorneys can help you if you have information regarding securities or investment fraud, violations of federal securities laws, false filings, market manipulation, or other misconduct. You must provide timely, credible, and original information or analysis to be eligible.
Contact us through our online form or at (800) 975-4345 for a consultation. Our attorneys work on a contingency fee basis. This means that it costs you nothing to hire us, and we collect our fees only if you receive an SEC bounty. Because we get paid when you do, we have the incentive to help you collect the maximum award available.