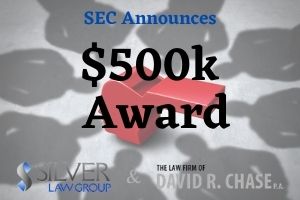 In yet another tip that yielded a successful investigation, the SEC awarded $500,000 to two whistleblowers who provided cruicial information. In addition to the SEC, other law enforcement agencies were involved in stopping the continuing investor fraud.
The press release indicated that the individuals offered the agencies "substantial, ongoing assistance that focused the investigation." The information saved the involved agents time and additional resources. There were multiple SEC actions as well as "a related action from another government agency."
The SEC depends on whistleblower tips to find and/or continue investigations into securities fraud and other criminal acts that harm investors. Tips like these can fill in gaps that investigators might now otherwise discover on their own, and help bring wrongdoers to justice sooner.
Payments like these are made from an investor protection fund established by Congress. The funds come from monetary sanctions paid to the SEC by those who violate the law. Information that leads to a successful SEC action can see whistleblowers awarded monies. The usual awards are between 10% and 30% in cases that net over $1M in fines and sanctions. In this case, the two whistleblowers will split the $500,000 award 50/50.
The identity of these whistleblowers is protected by the Frank-Dodd Act, and includes any information that could reveal their identities.
2021 has revealed multiple ongoing ponzi schemes and charges against multiple companies including GPB, Professional Financial Investors, Inc. and Equialt.  The SEC Whistleblower program provides a roadmap for those who discover an active ponzi scheme or ongoing securities fraud to be rewarded for reporting the case to the SEC.  However, SEC whistleblowers can best utilize experienced counsel to report the fraud in a manner that raises the likelihood that the SEC will investigate and prosecute the misconduct. Our experienced securities and investment fraud attorneys work with whistleblowers to investigate investment frauds and package the material for the SEC in a way that increases the likelihood that the SEC will prosecute the claims.
Learn more about the SEC's Whistleblower program and information on submitting tips at their website.
Retaining Experienced SEC Whistleblower Attorneys
Our SEC whistleblower attorneys can help you if you have information regarding securities or investment fraud, violations of federal securities laws, false filings, market manipulation, or other misconduct. To be eligible, you must provide timely, credible, and original information or analysis.
Whistleblowers help the public by notifying authorities of conduct that harms the public, while also earning financial compensation for themselves.
Contact us through our online form or at (800) 975-4345 for a consultation. Our attorneys work on a contingency fee basis, which means it costs nothing to hire us and we have the incentive to get you the maximum award.