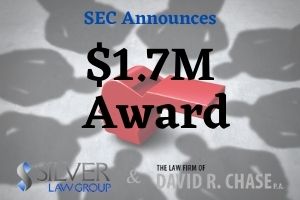 The US Securities & Exchange Commission (SEC) recently awarded $1.7 million to two whistleblowers who provided critical information within 30 days via Form TCR (Tip, Complaint or Referral). Both provided their information in accordance with the new Securities and Exchange Act Rule 21F-9(e).
The first award saw a whistleblower receive $900,000 after providing information on a fraudulent scheme that recurrently defrauded investors. The provided evidence allowed the SEC to further a continuing investigation that ultimately led to a shutdown of operations. The whistleblower offered a significant amount of evidence that included an essential declaration.
The second whistleblower offered critical evidence of "false and misleading statements made to investors." The individual produced documents as well as participated in interviews during the investigation. As a result, defrauded investors saw millions in returns, and the SEC awarded this individual $800,000.
In both cases, the whistleblowers complied with the TCR filing requirements in the first 30 days of finding out about the filing requirements, or the first 30 days of hiring legal counsel to assist them in connection with the submission of information. Both individuals supplied the SEC with solid information that led to two successful enforcement actions by the agency.
Who Are Whistleblowers?
Anyone can be a whistleblower—from a low-level company employee to a customer to an investor, and even executive management like directors and CEOs. When someone discovers wrongdoing in a company at any time that harms the public good, defrauds people, or outright commits crimes, they have the opportunity to report that wrongdoing to the SEC or other regulatory authorities.
There are US laws that protect workers from retaliation by their employer. Workers who experience workplace retaliation may need to consult with an attorney that handles employment law, as well as file a complaint with the EEOC, depending on the circumstances, especially if they find themselves involved with wrongful termination.
In the case of SEC whistleblowers, their identity is protected by law through the Dodd-Frank Act. The SEC treats all identifiable information with the utmost in confidence, releasing only small amounts of information to protect those who came forward. The SEC rewards whistleblowers who offer information on securities violations, as well as those who supply information on bribes paid to foreign officials in violation of the Foreign Corrupt Practices Act (FCPA).
You can learn more about the SEC's Whistleblower Program through their website, including information on submitting tips and the latest rule amendments.
Retaining Experienced SEC Whistleblower Attorneys
Our SEC whistleblower attorneys can help you if you have information regarding securities or investment fraud, violations of federal securities laws, false filings, market manipulation, or other misconduct. To be eligible, you must provide timely, credible, and original information or analysis.
Whistleblowers help the public by notifying authorities of conduct that harms the public, while also earning financial compensation for themselves. Our SEC whistleblower attorneys are admitted to practice in New York and Florida and represent whistleblower's nationwide.  In 2020, one of our clients, a financial advisor at a large wirehouse, received a substantial award for cooperating with the SEC for the benefit of retail investors.
Contact us through our online form or at (800) 975-4345 for a consultation. Our attorneys work on a contingency fee basis, which means it costs nothing to hire us and we have the incentive to get you the maximum award.