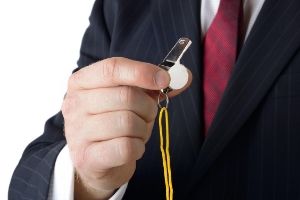 As reported in the Wall Street Journal, employees of tech companies in Silicon Valley and elsewhere are increasingly coming forward to the Securities and Exchange Commission (SEC). These employees-turned-SEC whistleblowers are explaining how their companies are overpromising and underdelivering or otherwise violating the federal securities laws.
In some cases, SEC whistleblowers have revealed that their companies have been making false representations about their technology. When it comes to the headline-making allegations about Theranos Inc., whistleblower employee Tyler Shultz claimed that the company was falsifying its lab tests and was not making an effective product.
As important as the whistleblowing of outright fraud—that tech works when it doesn't—are, these issues aren't the only concerns the SEC wants to hear about. Frequently, companies exaggerate their technology success to inflate the companies prospects or earnings to increase its stock price or manipulate its financial records.
When Facebook employee Frances Haugen came forward with the firm's internal documents, Haugen revealed that the company was suppressing research demonstrating that its products were more harmful than it had previously admitted. In doing so, the SEC became aware that the firm may have failed to be truthful with regulators, legislators, and investors: Facebook allegedly intentionally made things worse for society to help its bottom line.
And recently, the SEC has been rumored to be looking into Apple's use of non-disclosure agreements to resolve discrimination complaints, following a former employee's grievance. News outlets have reported that the SEC may be investigating if Apple misled the SEC on its use of these agreements.
If you are aware of a tech firm that is misleading investors or regulators, and you're considering becoming an SEC whistleblower, contact the experienced attorneys at Silver Law Group and the Law Firm of David R. Chase. With years of experience in securities fraud and SEC whistleblowing litigation, we are here to help. For a free, confidential consultation, contact us or call us today at (800) 975-4345.