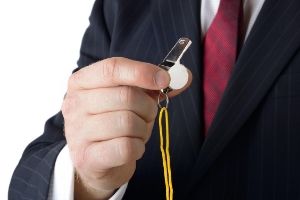 When it comes to legal terminology, there's one term that is frequently discussed but little understood: Arbitration. Let's discuss what arbitration is and how it can impact your whistleblower claim.
Arbitration is a sort of private mini-trial to litigate disputes between two or more parties. Rather than going to court for a lawsuit, disputing parties present facts and arguments before a private judge, known as an arbitrator, that the parties have hired to hear their case. The arbitrator makes a decision on the case, just as a judge in a court would do, and the parties must follow the arbitrator's decision.
For example, FINRA arbitration operates the largest dispute resolution program for investor claims against stockbrokers to resolve disputes for claims including claims for unsuitable investments, breach of fiduciary duty, and Ponzi schemes.
Since it is a faster, less formal, and cheaper process than court litigation, many companies now require you to agree to "mandatory arbitration" as part of any contract. When mandatory arbitration is in place, with few exceptions, you cannot file a suit against the other side. Instead, you must go to arbitration.
Arbitration is often discussed alongside mediation, but it's important to recognize that they are not the same. In mediation, the mediator tries to encourage parties to come to a mutually acceptable decision. If the parties cannot do so, they are free to walk away. In an arbitration, the arbitrator decides the result, and the parties must abide by the outcome.
Now to the question of the hour: How does a mandatory arbitration contract impact my ability to be a whistleblower?
Generally speaking, it doesn't. You're not required to go to arbitration instead of reporting wrongdoing to relevant law enforcement. Companies cannot use contracts to circumvent the law or to aid them from doing so. But arbitration can impact your ability to sue a company for retaliation after you've been a whistleblower. This will depend, however, on the statutes that relate to your whistleblowing complaint, and the retaliatory behavior itself. Our attorneys have significant experience handling investor and employment arbitration claims at FINRA, AAA, and JAMS.
If you are a whistleblower concerned about arbitration or other proceedings, don't hesitate: Get an experienced attorney who specializes in handling whistleblowing cases. The securities attorneys at the Silver Law Group and the Law Firm of David R. Chase can help. For a no-cost, confidential consultation, email us or call us today at (800) 975-4345.