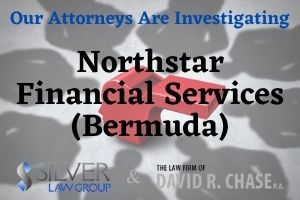 Our attorneys are investigating Northstar Financial Services (Bermuda) regarding possible misconduct related to their various investment and insurance products and the broker-dealers who sold them. If you have information regarding any misconduct or violations of securities laws, or if you are a victim investor, our attorneys are interested in speaking with you.
Among the investments offered by Northstar are:
Global Index Product
Global Advantage Select
Global Interest Accumulator
Global Advantage Plus Series
Global VIP Elite
What Is Northstar Financial Services (Bermuda) Ltd.?
Northstar Financial Services was created in the 1990s and offered fixed- and variable-rate annuity and investment products. Being based in Bermuda was supposed to offer tax benefits.
In 2018, Northstar was sold to a Bermuda holding company owned by Greg Lindberg, the erstwhile billionaire who in March, 2020 was convicted by a federal jury of wire fraud and bribery regarding programs receiving federal funds. He is currently serving a sentence of seven years and three months in federal prison.
Greg Lindberg is now known for creating an empire of annuity and insurance companies that he used to send money to companies he controlled. Court documents show that after he took ownership of Northstar Financial Services (Bermuda), he reallocated their assets to special purpose vehicles under his control in the US.
After the United States Department of Justice investigated and indicted Lindberg, investors in Northstar Financial Services began requesting liquidation of their investments. The company was not able to pay, and court documents state they could have a deficit of $265 million.
In September, 2020 the Supreme Court of Bermuda ordered that two people of Deloitte Ltd. were appointed as joint provisional liquidators of Northstar Financial Services Bermuda Ltd.
Northstar Pitched As Safe, Secure Investment
Investors have alleged that their brokers and investment advisors told them an investment in Northstar was conservative and safe, comparable to bank CDs but with higher guaranteed returns.
Financial advisors probably sold Northstar because of the high commissions they received for recommending it to their clients. One investor has stated that they were not told when Northstar was purchased by Greg Lindberg.
Brokerage firms are required to perform due diligence on investments they recommend and to advise their clients to invest in suitable products. They aren't supposed to sell whatever pays them the highest commission. Investors with losses in unsuitable investments may be able to recover those losses through FINRA arbitration.
We Can Help You Recover Investment Losses In Northstar Financial Services (Bermuda)

Anyone with timely, credible, and original information or analysis can submit a tip to the Securities and Exchange Commission (SEC). If it leads the Commission to collect a sanction of $1M or more, the whistleblower can receive between 10% and 30% of the money.
While having an attorney is not required to file a whistleblower claim, the SEC encourages potential whistleblowers to speak with an attorney. Having an experienced lawyer can give you the best odds of collecting the highest award.
Work With Experienced Securities and Investment Fraud Attorneys
Our experienced SEC whistleblower attorneys have filed multiple SEC whistleblower claims and are ready to investigate your potential case. Our experience representing investors and whistleblowers provides an advantage when helping potential whistleblowers.
Our attorneys routinely represent investors in claims for unsuitable investment losses in securities fraud cases, Ponzi schemes and misrepresentation claims. We frequently handle these cases on a contingency fee basis. Our south Florida lawyers can speak with you in Spanish or English and we represent investors nationwide and throughout Latin America.
Our clients include securities industry insiders and investors, as well as others who have information about fraud and are seeking to recover investment losses or report fraud to the SEC.
For a consultation with an attorney, contact us at (800) 975-4345 or through our online form. We work on a contingency fee basis, which incentivizes us to maximize recovery for the whistleblower.