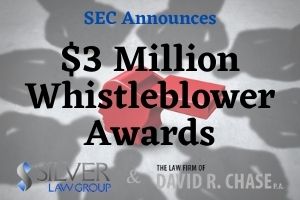 The Securities and Exchange Commission (SEC) announced that whistleblower awards totaling almost $3M had been paid to five people who provided information to the commission that led to three different enforcement actions.
Orders Determining Whistleblower Claim
The first order awarded $1.8 million to one whistleblower who "provided information that would have been difficult to detect in the absence of the tip and provided extraordinary assistance to SEC staff resulting in the return of the money to investors." Scott Silver, Silver Law Group's managing partner which publishes this site, represented this whistleblower and helped him submit his tip years ago.
The whistleblower had been a broker at Morgan Stanley Smith Barney. His tip related to fraudulent marketing regarding a foreign currency trading program by Morgan Stanley and Citigroup. The SEC investigated and collected almost $6 million in disgorgement and penalties. Given our client's high-quality information and professional hardships suffered, we requested that he receive the maximum 30% award, which he did.
The second order was an award of $750,000 to two whistleblowers. The first whistleblower provided a tip that prompted the investigation to open. That whistleblower received $500,000. The second whistleblower provided new information that led to additional allegations in the action. The second whistleblower received over $250,000. The SEC said in its press release that "Both whistleblowers provided substantial assistance, including participating in interviews and providing subject matter expertise."
The third order was a joint award of almost $400,000 to two people who provided analysis that led the SEC to investigate and a successful enforcement action. The whistleblowers also provided continuing assistance during the investigation.
Whistleblower Awards Set Records
Since its creation in 2010, and first award paid in 2012, the SEC whistleblower program has paid over $731 million to 124 whistleblowers, with the amount of the awards increasing in size over time.
In October, 2020 a $114 million award was announced, which is the highest ever, and more than double the next biggest award of $50 million.
Speak With An SEC Whistleblower Attorney
To be eligible for a whistleblower award, original and timely information must be provided which leads to a successful enforcement action. If more than $1 million is collected, the whistleblower can receive between 10% and $30% of the recovery.
An attorney is not required to submit a whistleblower complaint, but the SEC recommends that individuals speak to a whistleblower attorney. Doing so may give the whistleblower the best chance of having their tip investigated, of getting the biggest award, and of helping avoid retaliation.
Our experienced SEC whistleblower attorneys can assist you if you have information regarding investment or securities fraud or other illegal conduct. The SEC considers cases involving violations of the federal securities laws, including market manipulation, Ponzi schemes, and other misconduct.
Our lawyers have filed multiple SEC whistleblower claims, and clients include Wall Street insiders, retail investors, and others who have information concerning fraud and want to protect others. In the last year, our SEC lawyers have won whistleblower awards for our clients and are currently pursuing several additional cases.
We can investigate your potential whistleblower tip and take the actions necessary to meet your goals. Contact us at (800) 975-4345 or through our online form for a consultation with an attorney. Our attorneys work on a contingency fee basis and are incentivized to maximize the recovery for the whistleblower.