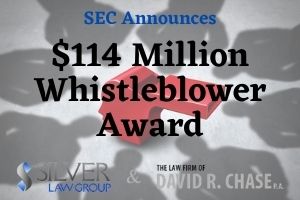 The Securities and Exchange Commission (SEC) announced a $114 million whistleblower award, which is the highest in the program's history. The whistleblower's information and help led to a successful enforcement action.
The SEC's press release states that the massive award is made up of a $52 million award related to the SEC case and a $62 million award from actions by another agency, which is not named.
Record Whistleblower Award Follows Record Year
To understand just how large this award is, the SEC recently announced that it had a record fiscal year with $175 million awarded to 39 whistleblowers. This award is $114 million to a single whistleblower. The next biggest award was $50 million, made to an individual in 2020.
SEC Chairman Jay Clayton said "Whistleblowers make important contributions to the enforcement of securities laws and we are committed to getting more money to whistleblowers as quickly and efficiently as possible."
Scott Silver, Esq. a leading SEC Whistleblower attorney, commented "This large award highlights the success of the SEC whistleblower program and the recognition that those who report fraud, especially those who work inside some of Wall Street's largest investment banks, can be confident that the SEC will work with whistleblowers and their counsel to rectify wrongdoing and protect the whistleblower."
The Chief of the SEC's Office of the Whistleblower, Jane Norberg, lauded the whistleblower's actions, saying "After repeatedly reporting concerns internally, and despite personal and professional hardships, the whistleblower alerted the SEC and the other agency of the wrongdoing and provided substantial, ongoing assistance that proved critical to the success of the actions."
SEC Whistleblower Program
Since the SEC whistleblower program was created in 2010 with the Dodd-Frank Act, $676 million has been awarded to 108 people. To be eligible for a whistleblower award, information must be provided that is "original, timely, and credible" that leads to a successful enforcement action. Whistleblowers may receive from 10% to 30% of the money collected if the sanction is $1 million or more.
Whistleblowers are not paid out of taxpayer funds, and money is not taken from harmed investors to pay whistleblowers. Rather, whistleblowers are paid from an investor protection fund financed wholly by sanctions paid by securities law violators.
The SEC protects the identity of whistleblowers. The SEC recommends that whistleblowers have an attorney represent them, which can give whistleblowers the best chance of collecting an award.
Explore Your Options With An SEC Whistleblower Attorney
Our experienced SEC whistleblower attorneys can assist you if you have information regarding securities or investment fraud or other types of illegal conduct that could lead to a whistleblower complaint. We are ready to investigate and determine a course of action that's tailored for your goals. Contact us at (800) 975-4345 or through our online form for a no cost consultation with a securities fraud attorney.
Our team of SEC investment fraud attorneys have filed multiple whistleblower claims. Our clients include investors, industry insiders, and others who know of fraud and are ready to help protect others. The SEC considers many types of cases, including Ponzi schemes, market manipulation, and false filings. We work on a contingency fee basis and we work hard to maximize the recovery for the whistleblower.
Our firm's invaluable experience representing whistleblowers provides a unique advantage in helping those who are ready to bring justice to the securities industry.