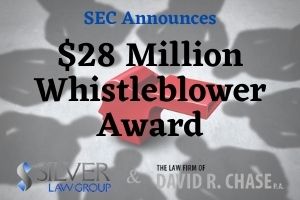 On November 3, 2020, the SEC (Securities and Exchange Commission) announced in a press release that it had awarded more than $28 million to a whistleblower who "provided significant information that aided the SEC in bringing a successful enforcement action."
The SEC protects whistleblowers' confidentiality and does not reveal identifying information about them. The only details the SEC has revealed about the whistleblower are that they reported information internally and "saved the staff time and resources by providing testimony and identifying a key witness."
Though nothing else is revealed about this award, the SEC states that whistleblowers can receive between 10% and 30% of the money collected when the sanction is $1 million or more. For this whistleblower to receive $28 million, that means the SEC collected a sanction somewhere between about $93 million and $280 million.
SEC Investigations leads to SEC Whistleblower Awards
The SEC whistleblower program began in 2010 with the passing of the Dodd-Frank Act. Since the first award in 2012, the awards paid to whistleblowers have been increasing. Recent awards have been astronomical as SEC investigations have lead to large enforcement actions.
In October, the SEC announced a $114 million award, which is the largest ever and more than double the next biggest whistleblower award of $50 million. And the SEC had a record-breaking fiscal year, which ended in September, 2020 with $175 million awarded.
Since the inception of the SEC whistleblower program, $719 million has been awarded to 112 people.
The Chief of the SEC's Office of the Whistleblower, Jane Norberg, said of the massive amounts of money that have been awarded to whistleblowers for reporting wrongdoing, "I hope our recent awards will continue to incentivize whistleblowers to come forward to report potential fraud or other wrongdoing."
To be eligible for an award, a whistleblower must voluntarily provide the SEC with information that is original, credible, and timely, which leads to a sanction that collects $1 million or more.
Contact An Experienced SEC Whistleblower Attorney
You are not required to be represented by an attorney to submit a whistleblower complaint, but the SEC recommends that you speak to a whistleblower attorney. An experienced whistleblower attorney can give you the best chance of getting the highest award and help to protect your identity and avoid retaliation.
Our team is lead by a former SEC senior trial counsel who has lead prior SEC investigations and knows how to cooperate with the SEC to help advance an investigation. SEC investigations are conducted privately. As the SEC develops a case, our attorneys can cooperate with the SEC as the SEC exams the records and interviews witnesses.
Our experienced SEC whistleblower attorneys can help you if you have information regarding investment or securities fraud, including violations of the federal securities laws, false filings, market manipulation, and Ponzi schemes. Our lawyers have filed multiple SEC whistleblower claims, and our clients include Wall Street insiders, investors, and others who want to stop fraud and protect others.
We are ready to investigate your potential claim and help you reach your goals. Contact us for a no-cost consultation at (800) 975-4345 or through our online form. Our attorneys work on a contingency fee basis, meaning there is no cost to retain us and we have the incentive to maximize your award.