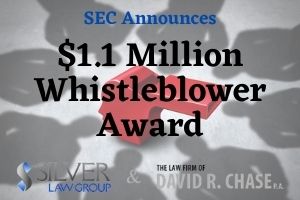 The Securities and Exchange Commission (SEC) announced that it has awarded over $1.1 million to a whistleblower whose "independent analysis led the staff to look at new conduct during an ongoing investigation."
Analysts, researchers and individuals who conduct their own independent analysis of publicly available information and identify violations of the securities laws may submit SEC whistleblower claims despite not having any inside or private information not generally available to the public.
Many times, it takes a unique perspective to look at all the pieces of the puzzle to demonstrate that a company is violating the federal securities laws or someone is operating a Ponzi scheme. Our lawyers work with these unique whisteblowers to help make sure that the analysis is maximized to get the SEC's attention. We then work with the whistleblower and the SEC to make sure the claim is properly reviewed.
A November 13, 2020 press release said the "whistleblower's information and exemplary assistance helped the agency bring an emergency action preventing further investor harm. This whistleblower examined publicly available materials and conducted an analysis that revealed important new insights into the securities law violations, which helped the SEC protect investor assets from dissipation by the wrongdoer."
Details of the analysis and the investor harm that occurred are not known because the SEC protects the identity of whistleblowers by not disclosing identifying information.
SEC Whistleblower Award For Independent Analysis
Most press releases from the SEC state that a whistleblower was awarded money for providing information that alerted the commission to wrongdoing. This information is often not public and provided by industry insiders. This award demonstrates that independent analysis of publicly available information can be considered original and can lead to a whistleblower award.
Jane Norberg, the SEC's chief of the office of the whistleblower, said in the press release "Today's award reflects the Commission's commitment to award whistleblowers who provide high-quality independent analysis. Whistleblowers who devote time and effort to develop unique insights may afford the Commission important information about possible securities laws violations."
The SEC states that whistleblowers are eligible for an award when they "voluntarily provide the SEC with original, timely, and credible information that leads to a successful enforcement action." The whistleblower's award can be between 10% and 30% of money collected if the sanction is $1 million or more.
The whistleblower program has been setting records in 2020. In October, the SEC announced a $114 million award, which is more than double the next highest award.
Contact An SEC Whistleblower Attorney
Whistleblowers may file a claim on their own, but the SEC recommends speaking with a whistleblower attorney. Doing so may give the whistleblower the best odds of getting the highest award, and can help protect their identity and avoid retaliation.
Our SEC whistleblower team is led by a former Senior Counsel in the SEC Enforcement Division who has led previous SEC investigations and knows how to work with the commission to advance an investigation. Our lawyers have filed multiple SEC whistleblower claims. Our clients include investors, Wall Street insiders, and others interested in stopping fraud and protecting others.
We can help if you have information regarding investment or securities fraud, including violations of securities laws, market manipulation, and Ponzi schemes.
We are ready to investigate your whistleblower claim and assist you in reaching your goals. Contact us now for a no-cost consultation at (800) 975-4345 or through our online form. Our attorneys work on a contingency fee basis, meaning there is no fee to retain us and we are incentivized to maximize your award.