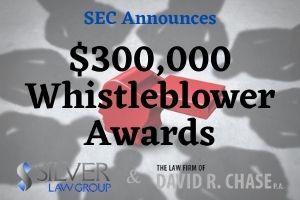 On December 14, 2020, the Securities and Exchange Commission (SEC) announced that it was awarding $300,000 to one whistleblower "whose high-quality information and continuing assistance significantly contributed to a successful enforcement action."
According to the press release, the whistleblower had "audit-related responsibilities" when they became aware of potential securities laws violations.
Individuals who audit or have compliance responsibilities usually are not eligible for whistleblower awards, but there are exceptions, such as when a whistleblower "reasonably believes that an entity is engaging in conduct that would impede the investigation".
Jane Norberg, the SEC's Chief of the Office of the Whistleblower said "This award is an example of the important role that audit and compliance professionals can play in assisting the Commission's enforcement efforts, especially when the entity is attempting to thwart an investigation. The whistleblower attempted to remedy the conduct and provided exceptional assistance to the enforcement staff."
SEC Whistleblower Program
Anyone with original information or analysis can submit a tip to the SEC. If the SEC investigates and collects $1 million or more, the whistleblower can receive 10% and 30% of the money collected.
Since its creation in 2010 and first award in 2012, the SEC whistleblower program has given over $731 million awards to hundreds of whistleblowers. The SEC may investigate tips related to investment fraud, violations of federal securities laws, Ponzi schemes, market manipulation, and other misconduct. Our clients include investors, stock brokers and securities industry insiders, and others who have information about misconduct.
The SEC Whistleblower Program is structured to protect compliance officers, auditors and others who are unable to stop, prevent or report internal securities law violations at their own financial services firm. Unfortunately, Wall Street is littered with good people who are prevented from stopping misconduct frequently because it will prevent the profits and bonuses being earned by the executives at the company. Our attorneys represent SEC whistleblowers at the SEC and in employment disputes through the courts or FINRA arbitration.
Are You A Wall Street Compliance Officer With A Potential SEC Whistleblower Claim
You don't need an attorney to submit a whistleblower complaint, but the SEC recommends that potential whistleblowers speak with an attorney. An experienced attorney can help you to have the best odds of having your claim investigated by the SEC, and of getting the maximum award.
Our whistleblower attorneys have filed multiple SEC whistleblower claims and are prepared to investigate your potential whistleblower claim and help you meet your goals.
Contact us at (800) 975-4345 or through our online form for a consultation with a whistleblower attorney. We work on a contingency fee basis, which means it costs nothing to hire us and we are only paid if you receive an award.