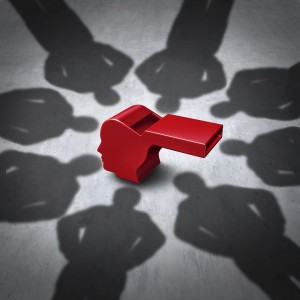 The U.S. Commodity Futures Trading Commission announced that it has awarded more than $45 million to whistleblowers. This includes a recent $30 million award to a whistleblower, the largest single award in the program. A second whistleblower award of $70,000 is the first to be awarded to a resident of a foreign country. Both individuals provided critical information that led to successful outcomes.
The program encourages individuals to report misconduct and violations of the Commodities Exchange Act (CEA.) Whistleblowers are offered protection against retaliation for reporting, and these awards are given for successful recovery.
According to the CFTC's website, the Whistleblower Program "was created by section 748 of the Dodd-Frank Wall Street Reform and Consumer Protection Act of 2010 (Dodd-Frank Act).  The CFTC pays monetary awards to eligible whistleblowers that voluntarily provide the CFTC with original information on violations of the CEA that leads the CFTC to bring a successful enforcement action resulting in monetary sanctions exceeding $1,000,000."
Under the Dodd-Frank Act, employers may not retaliate against a whistleblower for reporting possible violations of the CEA to the CFTC. Whistleblowers are protected by law, and no information is disclosed about their identities, which are confidential. Individuals who supply violation information are an important part of the program.
Awards can be paid for CFTC enforcement actions, as well as but also related actions brought by foreign futures authorities if they meet certain criteria.  If a whistleblower first reports a potential violation to a foreign futures authority first, he or she will also need to report the same information directly to the CFTC in order to be eligible for the whistleblower award.
Whistleblowers can receive between 10 and 30 percent of the monies and sanctions collected. The awards are taken out of the monetary sanctions collected through the administrative action, not money recovered for the investors.
Anyone with information about potential CEA violations can become a whistleblower by submitting a tip online. If you're interested in participating in CFTC's Whistleblower Program, want to learn how to provide a tip or apply for an award, visit the website at https://www.whistleblower.gov/.
Silver Law Group represents SEC Whistleblowers in Florida and throughout the nation as well as  investors in securities and investment fraud cases. Our lawyers are admitted to practice in New York and Florida and represent whistleblowers in SEC or CFTC actions nationwide. If you have specific knowledge of violation of the state or federal securities laws, call to speak with an experienced securities attorney.
Our team of attorneys' include a former SEC prosecutor and Wall street defense attorneys.  We have the experience and knowledge to help you protect your rights while maximizing the potential claims with the SEC.  Our south Florida Whistleblower Attorney's have appeared numerous times at the Miami SEC office to provide the SEC with potentially new or supporting information to bolster our clients claims.  The SEC whistleblower process can be intimidating and experienced counsel can help you maximize your recovery.