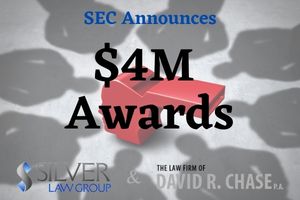 The Securities and Exchange Commission has kept busy, even through the holidays. On January 10th, 2022, the SEC put out a press release announcing that three more people have received bounties after working with SEC staff to identify and discontinue wrongdoing in the financial sector.
The first whistleblower reported their concerns internally prior to notifying the SEC. This information contributed significantly to an existing investigation. The SEC was not previously aware of this misconduct. This whistleblower's information assisted the staff in developing a well-organized and effective investigation leading to the enforcement action.
The whistleblower kept in touch with the staff throughout the investigation to help uncover the full extent of misconduct as well as identify all possible witnesses. This information as well as other assistance also helped the SEC staff to obtain evidence of wrongdoing that was occurring overseas. Without this information from the whistleblower, the activity would have been difficult to uncover. In this case, the first whistleblower received an award of $2.6 million.
The second action saw $1.5 million split by two whistleblowers. Both provided original information on a voluntary basis to the SEC, leading to a successful enforcement action. They both gave continuing assistance throughout the course of the investigation. They also provided several interviews as well as spoke with staff through their counsel on multiple occasions. These whistleblowers offered this assistance before and after key witnesses gave their testimony.
The SEC has exceeded $1 billion in whistleblower awards since the inception of the program in 2012. To date, 241 people have received bounties totaling $1.2 billion after supplying the SEC with important information leading to a successful enforcement action.
Whistleblowers who qualify are entitled to a monetary award of 10% to 30% of all funds recovered by the government through financial sanctions (fines, administrative fees, etc.) when those sanctions exceed $1,000,000. The SEC considers multiple factors when determining awards, including relevance and the degree of the whistleblower's assistance. Investor funds are never used for SEC bounties and awards.
As always, the identity of the whistleblowers is kept confidential, and the SEC does not release any information that could lead to the identification of anyone involved. The program offers whistleblowers protection from retaliation, part of which includes confidentiality.
Retaining Experienced SEC Whistleblower Attorneys
Whistleblowers help everyone by notifying authorities of conduct that harms the public, while also earning financial compensation for themselves. Hiring experienced SEC counsel will greatly increase your chances of the SEC initiating an investigation based on your information. If you wish to remain anonymous, you must be represented by an attorney, who will submit everything on your behalf.
Silver Law and the Law Firm of David R. Chase jointly have experienced SEC whistleblower lawyers, including a former SEC Enforcement attorney on the team, so you will always have guidance throughout the process. Our SEC whistleblower attorneys can help you if you have information regarding securities or investment fraud, violations of federal securities laws, false filings, market manipulation, or other misconduct. You must provide timely, credible, and original information or analysis in order to be eligible.
Contact us through our online form or at (800) 975-4345 for a consultation. Our attorneys work on a contingency fee basis. This means that it costs you nothing to hire us, and we collect our fees when you receive an SEC bounty. Because we get paid when you do, we have the incentive to help you collect the maximum award available.